If you're a soccer fan, you're in the right place. It's no secret that your soccer game is highly affected by the footwear you have on when you play. Cleats alone don't make you a good or bad player, but they are extremely important if you want to have an advantage on the field.
We're going to look at ten of the most expensive soccer cleats in the world. Some of them have comfort as their primary focus, while others show off a lot of bling! Keep reading to check out some cool – and pricy – kicks.
Here is a list of the top 10 most expensive soccer cleats in the world.
#10 Nike Mercurial Vapor 13 Elite Neymar Jr. FG – $293
These super cleats were specifically designed keeping a soccer player in mind. I mean, it's all in the name; the striking shoes were created for soccer legend Neymar. They feature a lightweight frame and ample cushion for comfort.
Along with this, they can be worn in all kinds of weather due to their All Conditions finish and make for a comfortable, speedy game. The cleats were also worn by other soccer superstars, such as Eden Hazard and Frenkie De Jong.
#9 Nike Hypervenom 3 – $300
A new addition to Nike's Hypervenom series, the Hypervenom 3 cleats were made keeping strikers in mind. The upper body is constructed out of Flyknit and has intertwined cables that mold your foot shape and allow it to move comfortably.
Your feet will feel secure and also free to move around. These are ultra-comfortable football boots and an ideal pair to wear when either playing or training. These cleats can be worn both by slim and wide-footed players, making them versatile and accessible.
#8 Nike Dream Speed Mercurial Superfly 7 Elite FG – $328
These cool cleats were inspired by some of the world's best soccer players and have also been worn by some others. Christiano Ronaldo has worn these shoes and endorses them.
They boast a high degree of traction, good grip, and a sleek design that allows players to get the sprinting speed they need. They perform well in both wet and dry conditions.
#7 Adidas Nemeziz 19+ FG – $335
The Adidas Nemeziz kicks have been around for over 15 years now and have been the top choice for the best soccer player globally, Lionel Messi. These neon cleats feature a 360 Agility Bandage, allowing players to take swift and narrow turns when running on the field.
These are known to be one of the most expensive soccer cleats on the market, so you know they're worth it!
#6 Adidas Predator 18+ FG – $450
The Adidas Predator cleats are designed exclusively for control on the field. They're a marvelous testament to smooth engineering and top functionality. They have a laceless forefoot and are therefore light, breezy, and speedy when in action.
These cleats aren't cheap, either. Even used pairs can go for up to $300 on most e-commerce websites.
#5 Nike Mercurial 'What The Superfly' – $550
These babies feature the newest TechCraft tech and were made keeping soccer titan Christiano Ronaldo in mind. He's known for his intricate foot movements and high sprint speeds.
These shoes guarantee top performance, increased traction, and even keep your feet cool so you can do your thing. They're light, bright, and a great purchase decision!
#4 Nike Mercurial Superfly – $1,000
Renowned brand Nike has raised the bar with this addition to their Mercurial line. These cleats look stunning and also boast some great functionality. They were made for players who enjoy sprinting and require extra traction. They can be used on both dry and natural surfaces and are extremely comfortable.
They will set you back quite a few dollars, but they're worth it!
#3 Adidas Messi F10 Trx FG – $1,999
Inspired by Lionel Messi's intense speed on the field, these Adidas Lionel Messi F10 TRX FG Soccer Shoes help give your game heat-seeking accuracy! They are the most expensive soccer cleats on the market you can buy now.
Manufactured with a lightweight synthetic upper, they feature soft EVA cushioning and the Traxion 2.0 firm ground stud configuration. It can ensure maximum grip and acceleration on hard natural grounds.
#2 Steven Gerrard's Adidas Predators – £40,200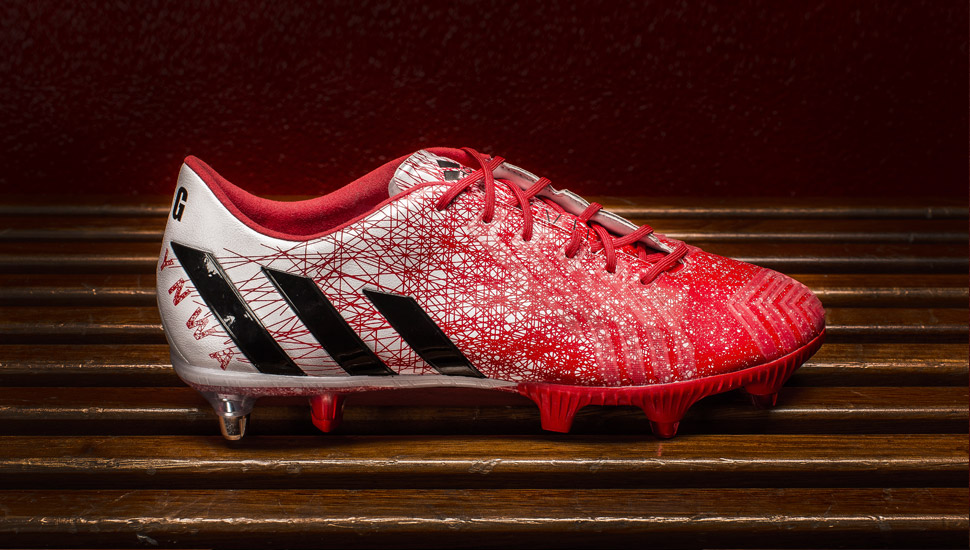 Since the retirement of David Beckham, Steven Gerrard has become Mr. Adidas Predator. adidas presents Steven Gerrard with a commemorative Predator Instinct to celebrate his 17 years of tireless dedication to Liverpool.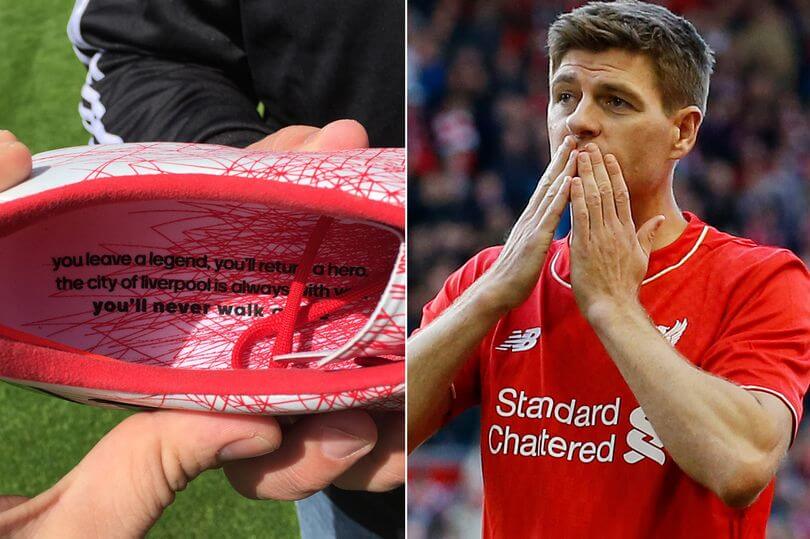 The football boots have a farewell message stamped inside. It says, "you leave a legend, you'll return a hero. The city of Liverpool is always with you. You'll never walk alone."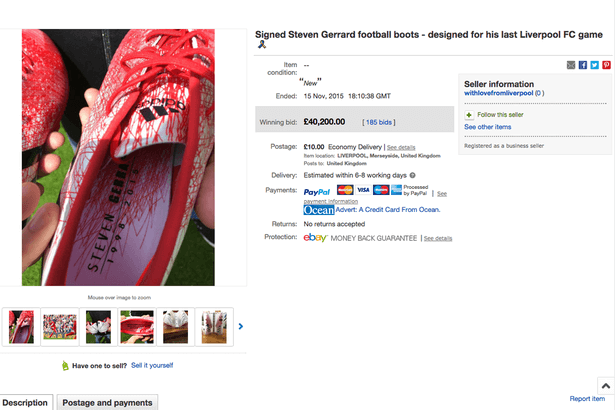 These legendary kicks were auctioned off on eBay and brought in over £40,200! They were signed by Gerrard himself, and proceeds from the auction went to the British Red Cross European Refugee Crisis Appeal.
#1 Ferdinand, Terry and Rooney Trio's cleats – $500,000+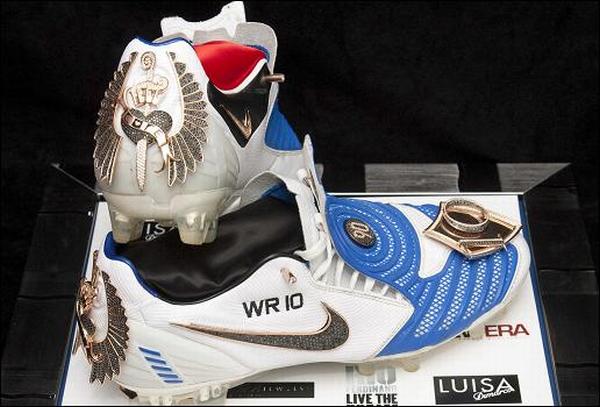 Yes, soccer cleats can be worth this much. They are the most expensive soccer cleats in the world. In 2010, soccer legends Rio Ferdinand, John Terry, and Wayne Rooney got together and donated one pair of their luxury cleats. The shoes were to be auctioned off to raise money for the Live the Dream Foundation.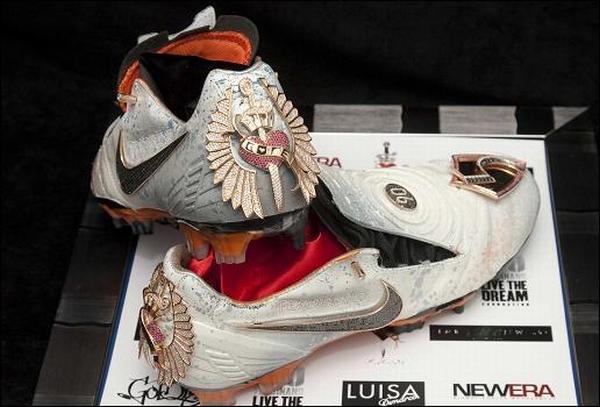 These are no ordinary soccer cleats. Not only have they been custom made for the soccer stars, but they also boast jewels, gems, and white gold! Each pair cost upward of $150,000 roughly.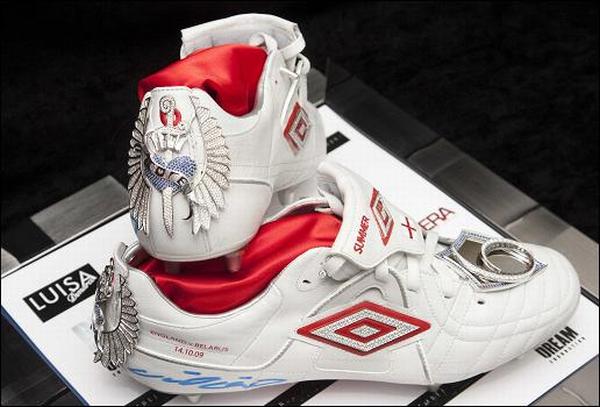 However, the auctioneer forgot to set a reserve price, so they were sold for much less than their actual value. Still, imagine getting your hands on this trio!