The most expensive Supreme items have very little in common with the products that anyone can buy (upon invitation SMS) in one of its 11 stores every Thursday morning. The new Nike Air Force 1 Supreme went on sale in March of this year for $ 96 and, after selling out in seconds, can now be purchased online at least double their original price.
How much does an original Supreme t-shirt, sweater, or sweatshirt cost? And a polo shirt? And a shirt? The truth is that not much for a streetwear brand. These items are inexpensive compared to the prices typically fetched by the highest-priced Supreme auction products.
Here is the ranking of the top 10 most expensive Supreme items in the world.
Is Supreme an expensive brand or not?
The popular belief that Supreme is an expensive brand needs clarification: it is its fans (the so-called hypebeasts) who contribute greatly to the climate of collective madness on forums, Instagram feeds, and resale websites.
That said, yes, sometimes the Lafayette people take to taking out Louis Vuitton whims with prices higher than those of many payrolls.
Supreme is first and foremost a brand that produces items on a very limited basis. A different story is that it's a very discreet volume of supply and production in the collections of each season encourages its items to reach astronomical prices on websites like eBay or StockX, and auction houses like Sotheby's.
The famous British auction house included in its 2019 catalog the largest batch of Supreme things in history. Some 1,300 items owned by collector Yukio Takahashi that sold for a total of £ 200,000, The Telegraph reported. The Japanese surname is not accidental: Supreme is almost a creed in Japan, where we find six of the total of the eleven Supreme stores that exist in the world.
Exclusivity, secrecy, and 'coolness'
It is clear that in Supreme they are not stupid and they know what they are up to. Supreme's list of the most expensive items helps to make a mark, as it is the fundamental pillar on which stands its characteristic aura of exclusivity, value, prestige, and coolness. And many, many questions for those who do not understand very well what is iconic about a lighter, a fan or a, literally, whatever, always with that same logo of seven white letters on a red background.
Last year, after investor firm Carlyle bought 50% of Supreme, the value of the skater fashion brand founded in 1994 crossed the $ 1 billion gap.
Today we are not here to analyze the brand. We are here to quantify the phenomenon in dollars and, above all, to try to understand it. As we show you below, the power of magnetism is such that some of Supreme's more expensive products are direct attacks on common sense (if most of them are not).
Most expensive Supreme items in detail
#10 Sopranos BOX LOGO T-Shirt – $ 5,000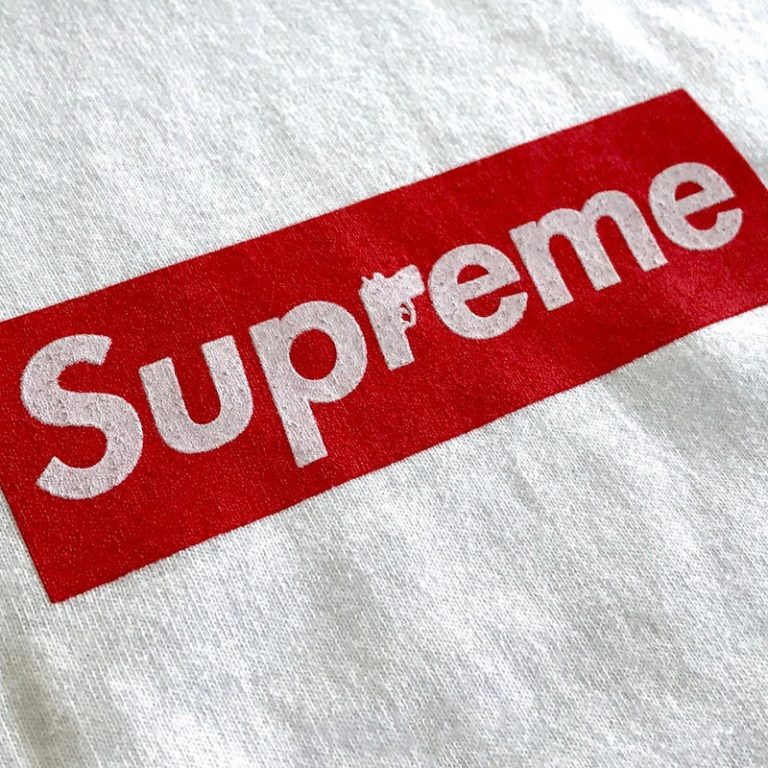 Need I say more? The series that established the standards of the current series boom that we are experiencing. The series without which Breaking Bad, The Wire, House of Cards and so many other quality fictions would not have been possible.
The boom in fiction starring James Gandolfini coincides more or less in time with the expansion of the Supreme brand as a streetwear icon, which makes this collaboration a very special one. So much so that only one letter has been modified with respect to the original BOX LOGO to transform it into the mythical r of the Soprano logo.
Only 100 models of the shirt were put on sale.
#9 Supreme RIMOWA Suitcases – $ 5,000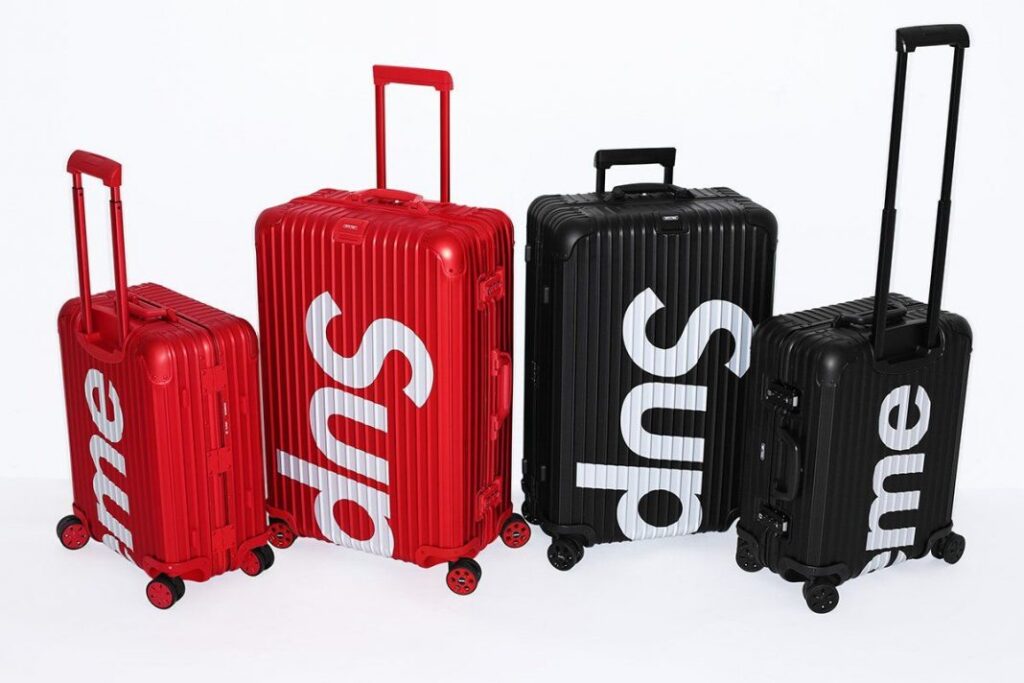 In the travel equipment industry, Rimowa has prices that make you laugh at Samsonite. Charging at least $ 1,000 for a suitcase is already, in itself, questionable.
If the suitcase is all red and has the Supreme logo inscribed, the retail price goes up about $ 600 more per model. Although large suitcases from the Rimowa Supreme collection have been sold on the second-hand market for a whopping $ 5,000, these numbers are low-key compared to Louis Vuitton's.
More on this in the next few paragraphs on our list of the most expensive Supreme items.
#8 Supreme Skateboards by Damien Hirst – $ 8,500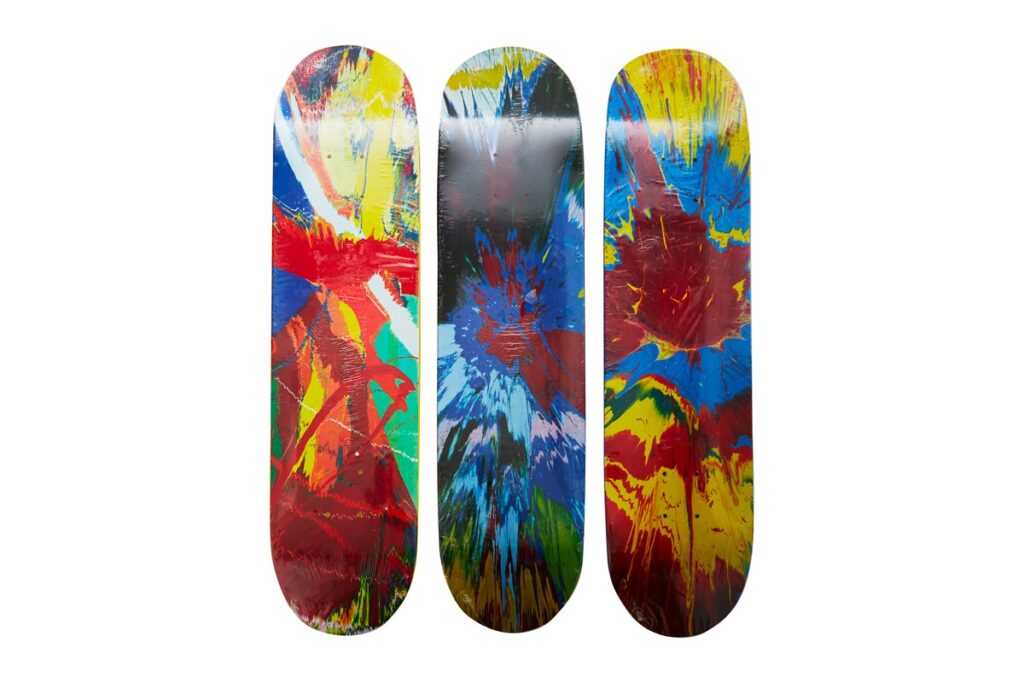 The Damien Hirst-designed Supreme skateboards were released in 2009, comes in a pack of three, glossed with a vibrant splash of colors based on the artist's spin painting series from 1992.
Supreme's artist skate decks are currently available at Moda Operandi's website, ranging from $5,000 – $14,000 USD.
#7 Supreme Fender Stratocaster – $ 9,500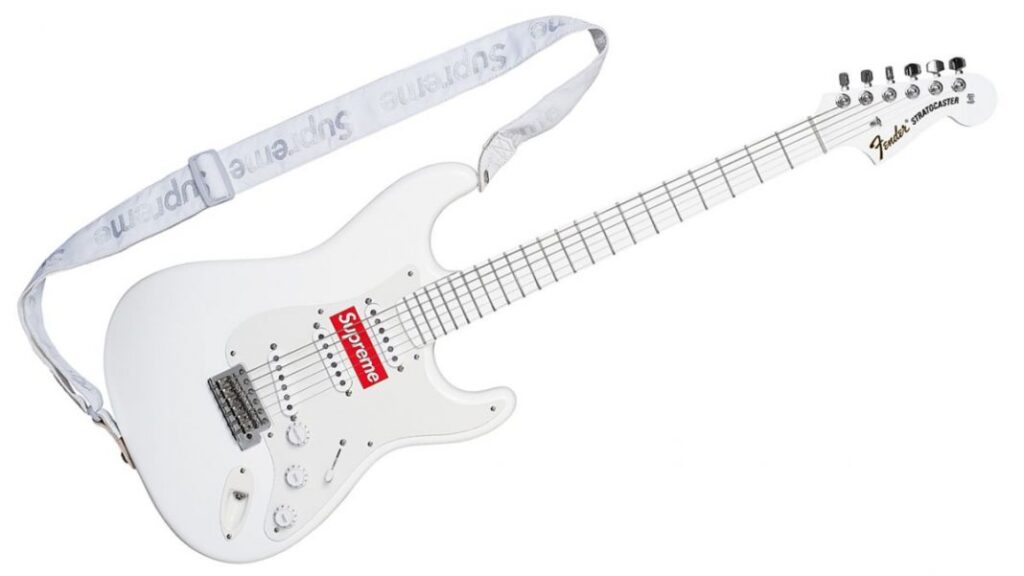 The classic Fender Stratocaster dates from 1954 and was the favorite design of many guitarists, including Jimi Hendrix. The pure white design guitar was released by Fender in 1994 (Supreme's founding year).
The one that concerns us is equal to all. It neither sounds better nor does it give you superpowers, but it comes incorporated with Supreme's classic BOX logo and a matching strap.
It went on sale for $ 2,000 and was an instant classic of 2017. A must in all hypebeast collections.
#6 Supreme Original Donald Trump T-shirt – $ 23,000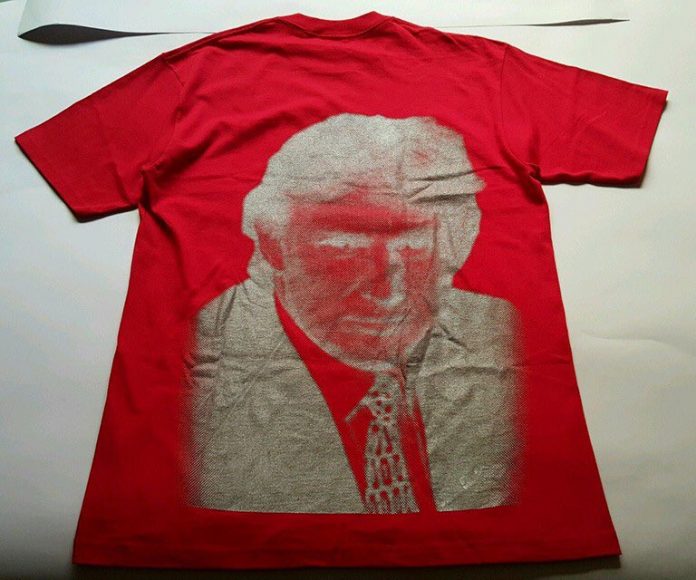 The curious thing about this model is in its creation date: the year 2003, when Donald Trump was only the eccentric and half-crazy real estate mogul famous for his reality show The Apprentice.
More than a decade later, just before the result of the presidential election between Hillary Clinton and Donald Trump was announced, the shirt had appreciated to $ 2,000. The next day, you can see it here if you don't believe it, the shirt was valued at $ 23,000.
#5 Supreme Spalding Basketball – $ 25,000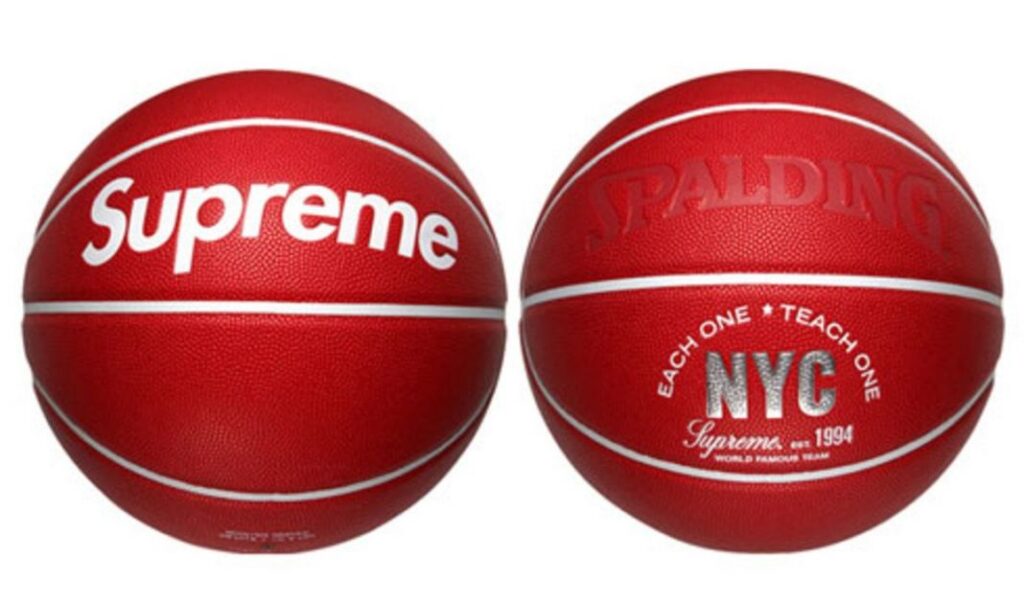 This basketball from the industry's greatest exponent, Spalding, is a rarity on the most expensive Supreme products list. The collaboration launched early, very early, in 1996, just two years after Supreme's founding.
It is estimated that there are about 70 of these balls worldwide. Aside from the iconic all-red design, we can read the slogans "EACH ONE TEACH ONE" and "WORLD FAMOUS TEAM" in silver.
#4 Supreme STERN Pinball Machine – $ 38,000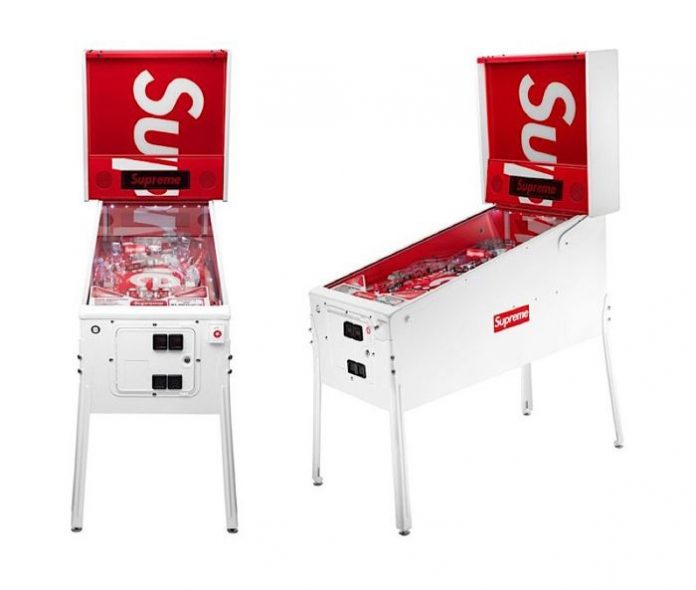 With a retail price of $ 9,600 , this pinball machine is one of the must-have items of Supreme collectors. It is common to see it swarming around bookmakers such as Sotheby's or Fineheart.
The latter sold in 2018, about which you can read more information in this thread from Pinside, a meeting place for lovers of these arcade machines.
#3 Supreme Louis Vuitton Skate – $ 88,200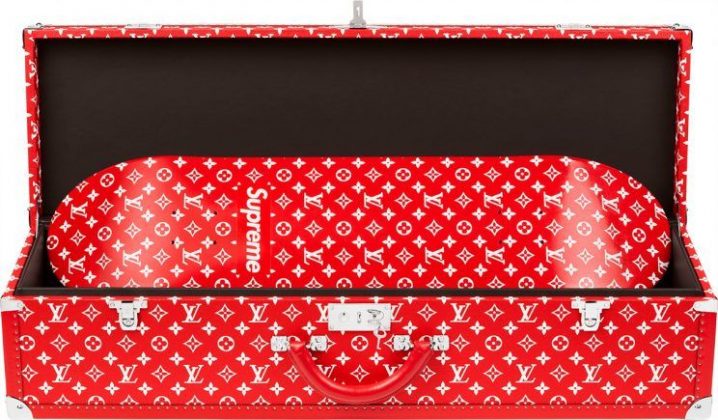 As we will see, the French Louis Vuitton has a hegemonic presence at the top of Supreme's more expensive products. Let's see why.
And if we have already seen throughout this article that collaborations between brands have an impressive revalued potential, what happens when the brand is one of the greatest exponents of luxury? Only 10 copies of this LV-Supreme skateboard were made where the color red dominates everything.
The French firm selected the 10 lucky ones? among his select customers, and was sold indivisibly together with a box that surely has more value than the table itself.
#2 Supreme Louis Vuitton Teddy Bear – $ 110,000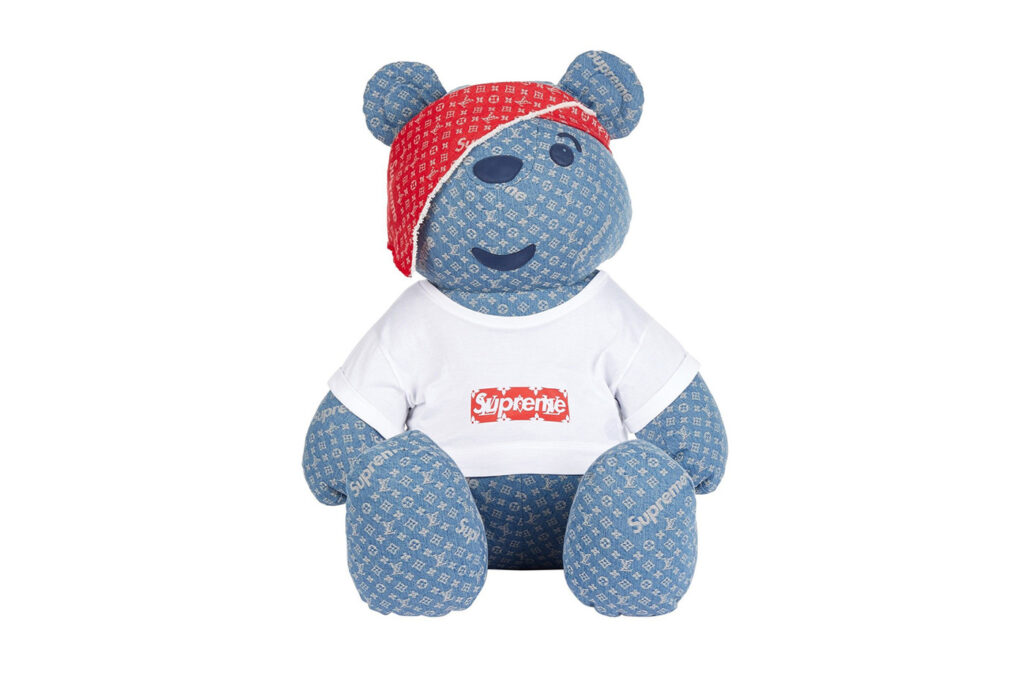 This Supreme x LV teddy bear is the first and only item on this top 10 most expensive Supreme items list that contains the words "charity." It was time, right? Someone paid about $ 110,000 that went to the BBC Children in Need Foundation in exchange for this teddy bear.
The 28-inch doll hit eBay earlier this month but has now officially ended its auction, and the price has finalized at 80,300 GBP, or $106,016.08 USD.
#1 Supreme Louis Vuitton Trunk – $ 125,000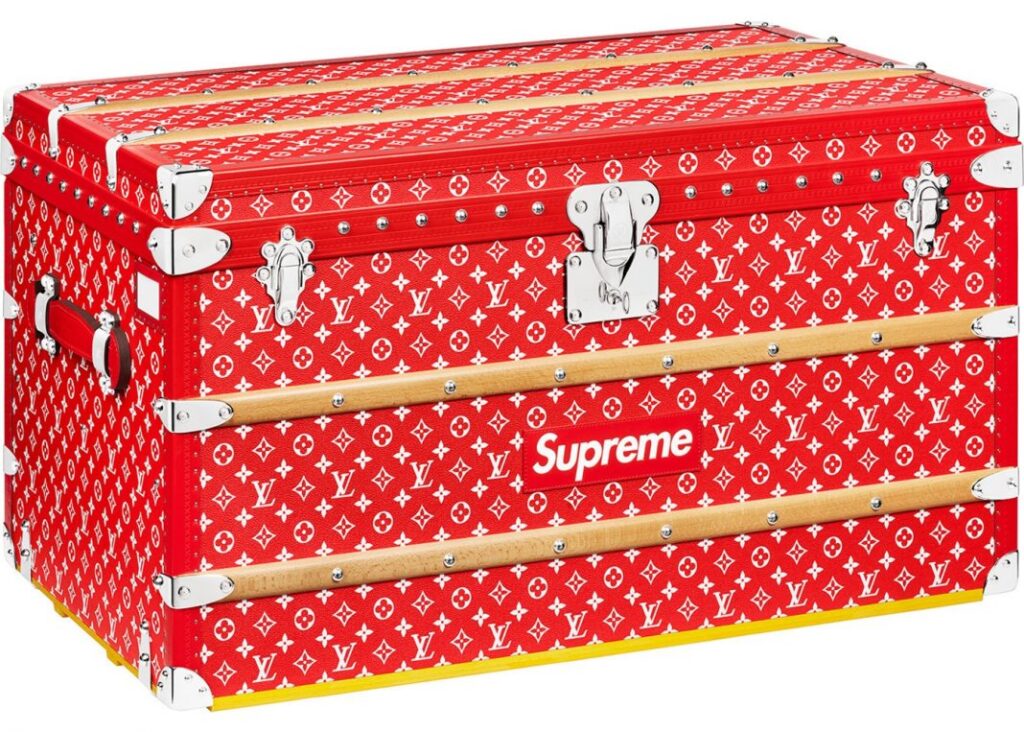 Supreme x LV Malle Courrier 90 Trunk is currently the most expensive Supreme item in the world. The trunk was auctioned at Christie's auction house in 2017 and sold for $125,000.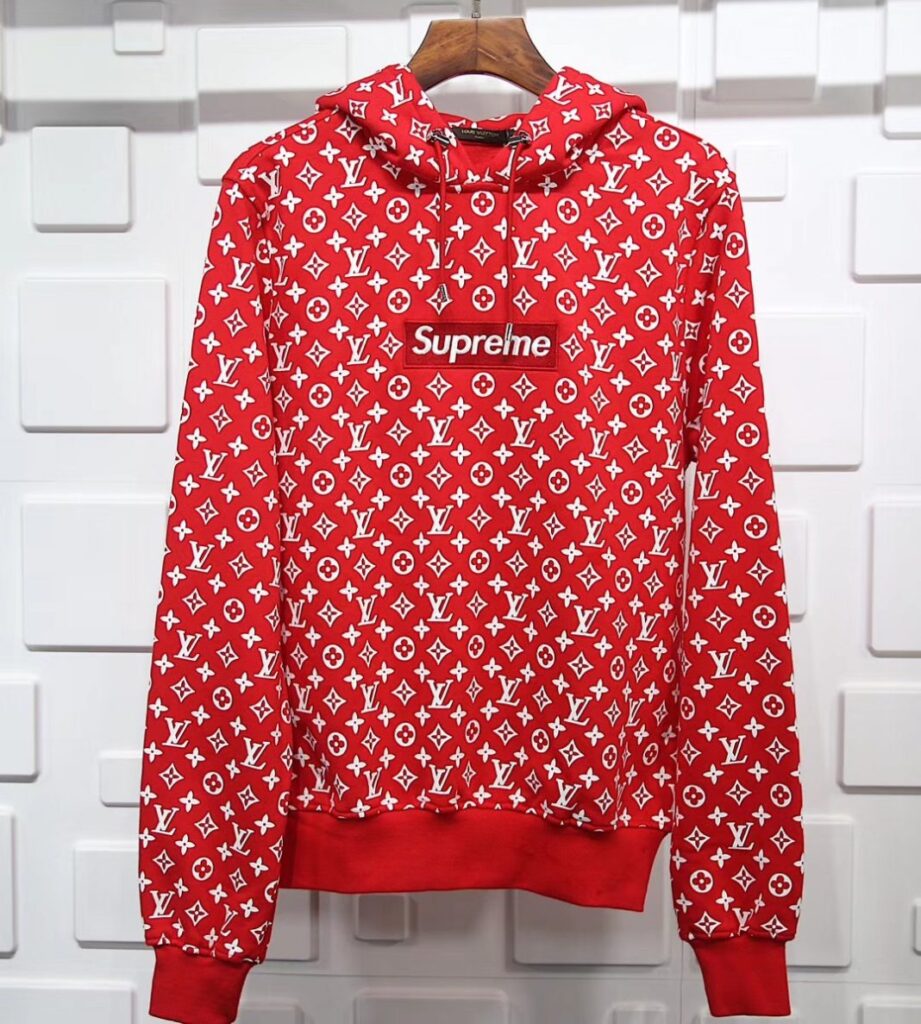 The most sought-after (and expensive, and longed for) Supreme product in the world. Again, LV did not put the chest up for sale in stores and only made a couple of calls to VIP customers. For now, only three are known to exist in the world. One of them is (or was) in the possession of a ten-year-old Supreme collector based in Dubai.
This trunk was launched on June 30, 2017, within a collection where we also find a pair of gloves and the legendary Supreme / LV red sweatshirt (of which it is easy to see five-figure prices on eBay). The chest has been one of the most expensive products sold by StockX, a website specialized in reselling sneakers that treat (and rates) all the garments and objects of the urban fashion universe as if they were precious stones.
In a way, they are.