An umbrella can seem like such a simple thing. There's usually always one lying around in case you need to step out on a rainy day. Some are stowed away in the trunks of cars or left hanging to dry in living rooms. It's not often that people think long and hard about their umbrellas. These commonplace items seem to be one of those necessities that one would only miss if one misplaced them.
However, an umbrella is much more than just stretched fabric on spindly metal legs. Many people consider their expensive umbrella a status symbol and take a lot of pride in picking just the right one.
In the list below, you will read all about the six most expensive umbrellas in the world. There are designer variants that have been made with a lot of attention to detail and craft. We promise you won't look at your umbrella the same way again!
#6 The Fendi Nylon Print Umbrella – $770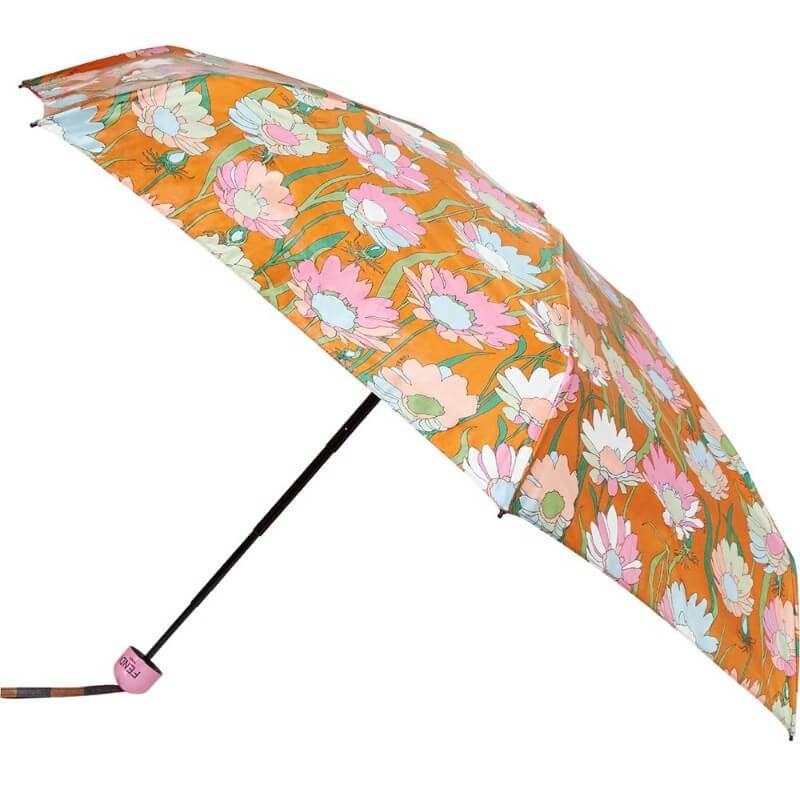 First of all, let's take a look at the sixth most expensive umbrella in the world. It's a whimsical umbrella to get you in a rainy-day mood. It's so pretty, and it'll make you wish for days where it's pouring outside so that you can step out with it on your arm. Fendi only creates exclusive designer-wear, and this umbrella is no exception. The price tag is completely justified when you consider the amount of detailing and craftsmanship that has gone into making this piece.
So, let's talk about the umbrella's aesthetics. You get a gorgeous floral print canopy stretched over a strong metal frame and matching zipped pouch. Talk about accessorizing right. What's more, it looks good when it's folded, too! You'll love taking this umbrella out on sunny picnics too.
#5 The Burberry Nubuck Ostrick Handle Umbrella – $850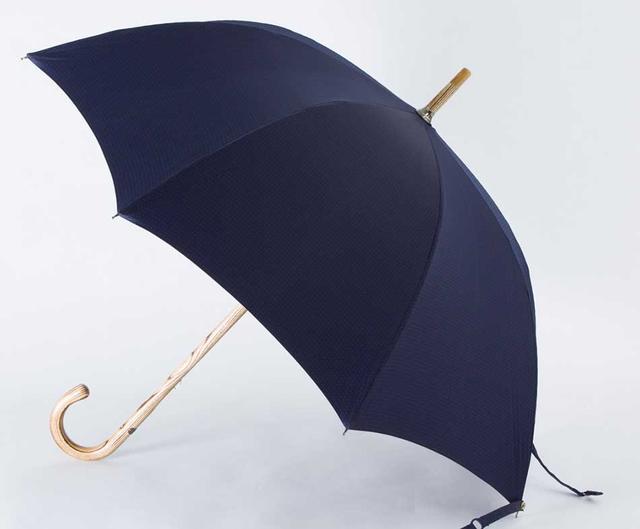 No one is a stranger to the high-street fashion brand Burberry. They've made a name for themselves with their signature trench coats, hats, and perfumes. It seems they've added to their iconic styles by creating an aesthetic yet protective umbrella that anyone would be proud to walk out with.
Burberry lends its reputation for a flawless design and haute couture to this streamlined umbrella. It has a vintage patterned design and accented tints that make passersby want to notice. It's made out of water-resistant polyester mixed with cotton twill. Both the refined handle and the press-stud are wrapped in ostrich skin, adding a luxurious touch to the item.
#4 The Swaine Adeney Brigg Men Malacca Umbrella – $1,270
This luxe umbrella does the Swaine Adeney Brigg brand justice. It features an intricately carved handle and can be used with two handles if needed. It also comes equipped with a drinking flask and is constructed from pure woven black silk. The handle is made of tulipwood and boasts custom silver plating. It is currently ranking 4th in the most expensive umbrellas list.
Not only does the umbrella boast protection, but it also offers convenience and style. Imagine being able to walk out with it and taking a drink along if you wanted. The Malacca Umbrella is the epitome of discretion and street style, albeit at a slightly weighty price tag.
#3 The Dolce & Gabbana Metallic Umbrella – $1,292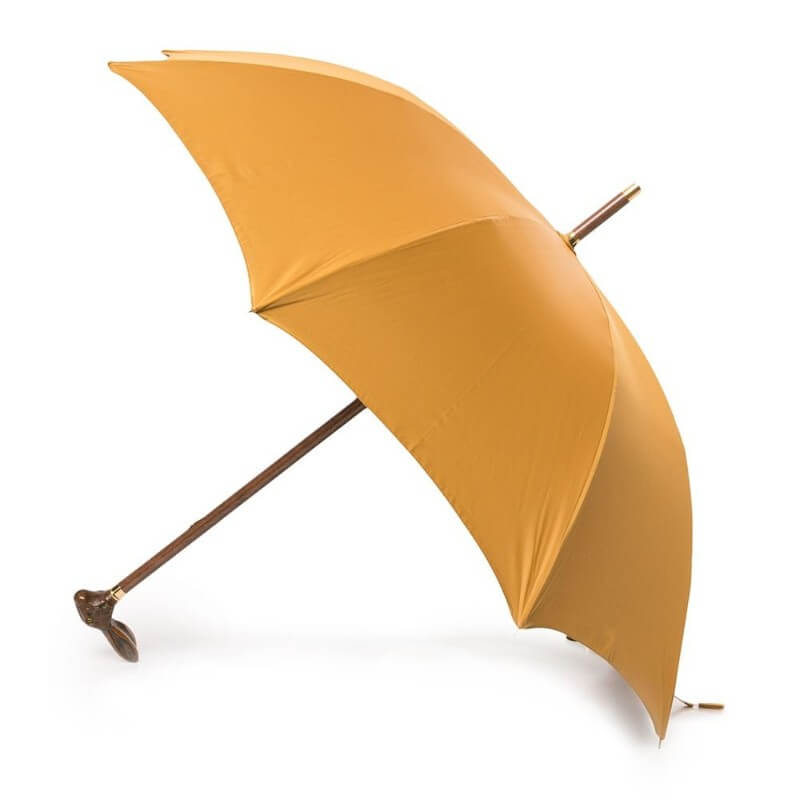 If you want to walk out in style, you'd love this designer umbrella. It boasts a lovely orange canopy with metallic accents that show how premium this product really is. The umbrella is available in a limited-edition collection and will be sold out more than it's available. It is currently ranked third in the list of the most expensive umbrellas in the world.
D&G is known for its unique and distinctive designs, and this umbrella is no different. You're certain to get looks when you walk down the street with this premium umbrella!
#2 The Louis Vuitton x Takashi Murakami Monogram Cerises Umbrella – $1,300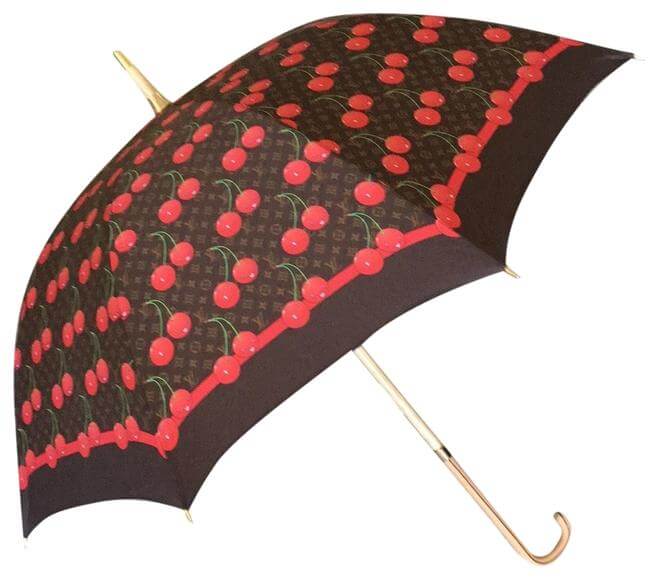 Louis Vuitton is known for its luxurious fashion accessories and designs. So it's no surprise that they've made a cherry-themed umbrella that'll make you want to shell out some serious dollar bills. This exclusive umbrella, the second most expensive umbrella in the world, is part of a limited-time collaboration between Louis Vuitton and designer Takashi Murakami.
It features a cowhide leather handle and a strong polyester canopy that's dotted in cherries. The umbrella is crafted purely in France and will give you that lovely Parisian vibe when you carry it. You will love the gold accents that adorn this protective piece.
#1 The Billionaire Couture Luxury Umbrella – $50,000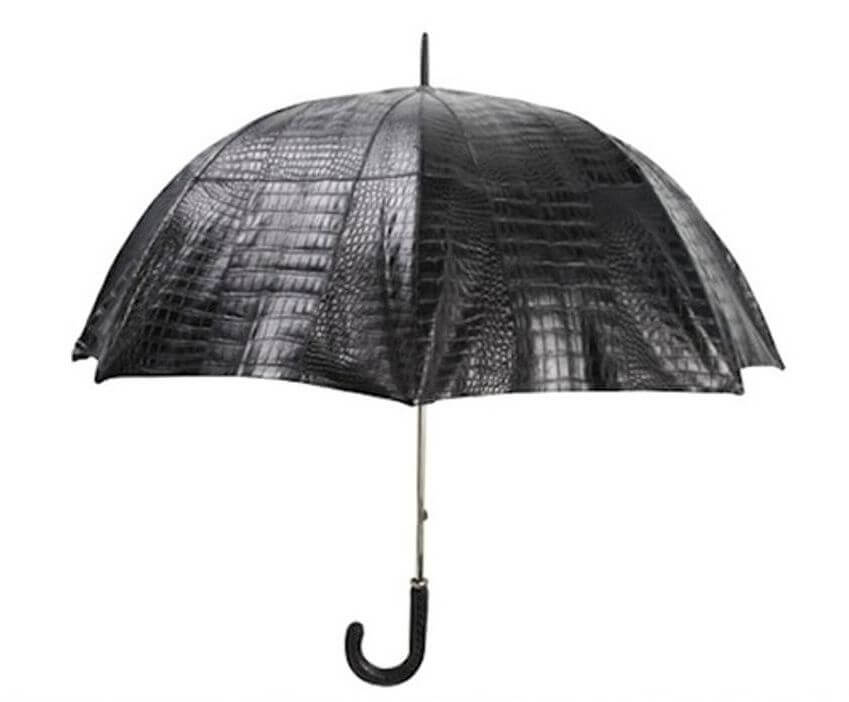 If the name sounds luxurious, imagine what the product would be like. Billionaire Couture is a top luxury brand founded by Formula One tycoon Flavio Briatore. The designs come from Angelo Galasso, and the Italian brand never disappoints in aesthetics or materials.
This most expensive umbrella in the world is made from water-resistant crocodile skin and is available on special order requests at Billionaire Couture's flagship store in London. The umbrella is guaranteed to keep you safe from the rain while also making you look stylish.