Sunglasses have long been the world's favorite fashion accessory. The archetypal depiction of coolness tends to feature sunglasses, which is just as well because the cost of the world's most expensive sunglasses may leave many of us feeling a little hot under the collar. 
There are fewer more timeless and stylish ways to refresh your image, try a functional new look, or throw caution to the wind than by finding a pair of sunglasses that suit your mood.
Although our shades never go out of fashion, the eyewear market has consistently experienced growth for many years–showing that the spending appetite of consumers is as strong as ever.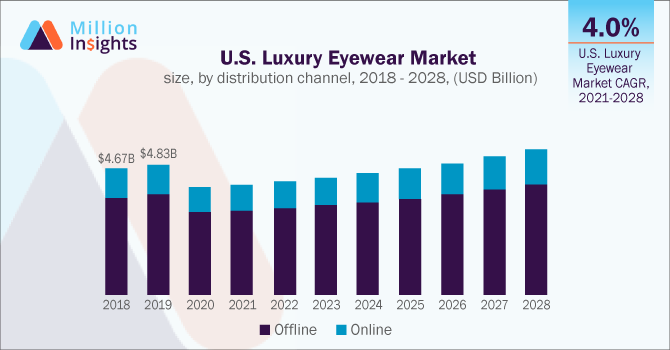 Despite some testing times for shoppers in recent years, the US luxury eyewear market is expected to grow at a CAGR of 4% between 2021 and 2028–indicating that we're always ready to look our best in a pair of shades.
However, even the most ambitious of consumers may balk at the cost of the world's most expensive sunglasses, which would set buyers back a similar price to that of a Ferrari 812 GTS, or a run-of-the-mill house in Stockton, California.
The world's most expensive sunglasses feature some striking designs and eye-watering prices, so let's take a deeper look at the seven most expensive sunglasses ever made: 
1. Chopard De Rigo Vision ($408,000)
Our first and most valuable pair of sunglasses featured are the Chopard De Rigo Vision. Chopard is a Swiss watchmaker and jeweler, and has developed a reputation for crafting striking pieces of eyewear adorned with valuable jewelry.
Weighing in at $408,000, buyers are likely to expect that the shades will be weighed down by the 24-carat gold frames that give the glasses their luxurious look. However, the real value is added by the 51 full-cut River diamonds that can be found throughout the eyewear.
Given that the Chopard De Rigo Vision costs nearly as much as a Rolls Royce Phantom, to own a pair of these gold and diamond decorated shades is a true fashion statement.
2. Dolce & Gabbana DG2027B ($383,609)
They're a name that typically frequents the pages of high fashion, so it only seems right that Dolce & Gabbana's DG2027B sunglasses rank as the second most expensive shades ever made.
No matter your price range, that Dolce & Gabbana look is iconic, and the luxury Italian designers have sought to feature their unmistakable branding with the use of diamonds while a solid gold rim captures D&G's classic look.
As for the price? It'll cost $383,609 to take the Dolce & Gabbana DG2027B home, which is a little more than the median house price in Colorado Springs.
3. Shiels Jewellers Emerald ($200,000)
If you're looking to get noticed on the beach this summer, the Shiels Jewellers Emerald sunglasses are likely to do the trick. Although they have something of a novelty look about them, they actually represent one of the most astonishing feats of fashion design.
The frame of the glasses is naturally pure gold, and features encrusted diamonds for good measure, but the brilliance of the sunglasses comes, unusually, from the lenses themselves.
Constructed from refined emeralds, wearers of these shades are capable of seeing the world through one of its most treasured gemstones. What's more is that it took Shiels five years to source the lenses, and a further three months to shape them to perfection. 
4. CliC Gold 18 Carat Gold Sport ($75,000)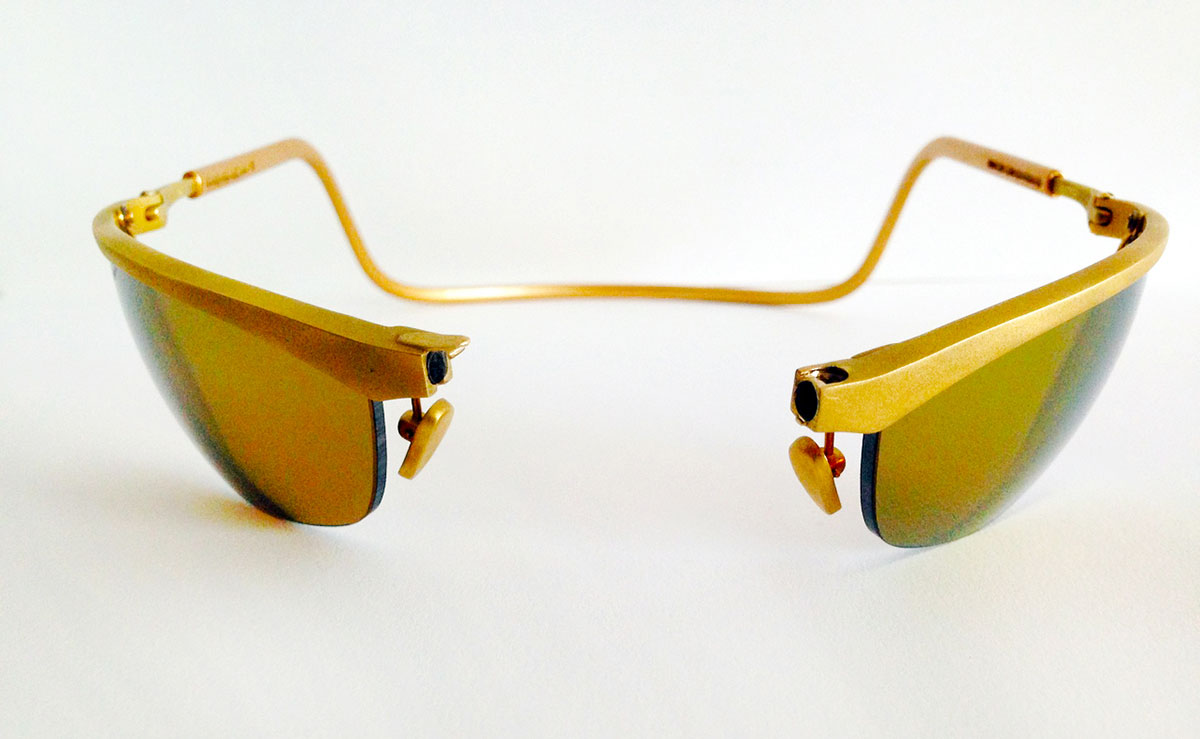 Whether you'd feel comfortable taking the Carl Zeiss Super ET Anti-Reflective coated CliC Gold 18 Carat Gold Sport sunglasses out of the house for a day of activities remains to be seen. Aside from the lenses themselves, the rest of this amazing eyewear is entirely made from solid 18-carat gold.
Having such an impressive feat of engineering atop your head when playing sports seems somewhat reckless–and the gold is probably a little too heavy for performance, but fashion rarely needs to make sense, and the CliC Gold 18 Carat Gold Sport sunglasses are some of the most striking creations we're likely to see.
The whole process takes 40 hours to complete, and each pair of sunglasses is created with the help of an expert gold crafter. At a $75,000 price tag, buyers have the option of the CliC Gold 18 Carat Gold Sport or a high-end sports car.
5. Luxuriator Style 23 Canary Diamond ($65,000)
Luxuriator is a name that's synonymous with high-end, high price fashion, and the Style 23 Canary Diamond sunglasses deliver on all expectations.
Crafted by eyewear and jewelry designer Franco, the Style 23 Canary Diamond sunglasses are made of 18-carat gold adorned with 132 diamonds. For comfort, the temples are made from buffalo ivory, leaving a look that's certain to get you noticed. 
At around $65,000, the Luxuriator Style 23 Canary Diamond shades cost the equivalent of a one gram, colorless, 1-carat diamond.
6. Maybach The Diplomat I ($60,000)
It's not uncommon for car manufacturers to delve into the world of designer eyewear, however, it's unusual for their shades to cost the equivalent of a brand new family car.
Maybach, the German luxury car manufacturer, opted to join the likes of Bentley in creating their own series of high-end eyewear. In creating The Diplomat I, we're left with a pair of sunglasses that look every bit as prestigious as their line of cars. 
The shades themselves are made of 18-carat gold, along with 174 hand-crafted diamonds. Limited to just 50 models, and packed full of beautiful jewels, it's becoming clear why The Diplomat I has commanded a $60,000 price tag.
7. Bulgari Flora ($59,000)
While many of the beautiful designs on our list focus on accentuating the gleam of gold throughout, the Bulgari Flora adds a little color to proceedings–and a powerful vintage focus that's a refreshing step beyond the other brands populating this collection of fashion superstars.
That's not to say that gold doesn't feature in the Flora, with Bulgari opting to use 18-carat white gold accompanied by diamonds and subtly colored sapphires.
For a cost of $59,000, you can wear an eye-catching design that you can bet will be the only one on display when out and about.
The true beauty of our rundown of the world's most expensive sunglasses is that they represent a different proposition entirely to collectors than, say, traditional jewelry or accessories like handbags. 
Because they're not recognized as much for their collectibility, it's all the more impactful to see truly vintage frames in public. However, at a cost rising to over $400,000, it's more likely than not that we won't see any of the designs that populate this list on our next trip to the grocery store.