Remember how happy you were when, as a child, you played with paper planes? Then, when you grew up, you moved on to remote-controlled flying toys. Remote controlled helicopters, planes, you name it.
There's something novel about being able to control flying objects, even if they're just toys. And now, some machines have seriously upped the game in terms of speed, height, technology, and utility. These streamlined machines are drones, and if you have one, you're probably the envy of all of your peers.
Owning a drone might be the ultimate power move, but it does come with a price. These prices vary depending on each specific drone's features and can tend to climb higher as you find machines with better specs.
We're going to tell you all about the five most expensive drones in the world, so if you want any of these bad boys, you better be prepared!
#5 The Scorpion 3 Hoverbike – $150,000
Ranked fifth in the list of the most expensive drones is the Scorpion 3 Hoverbike, which costs $150,000. This is an enjoyable machine that you can fly and ride. Sounds spectacular, right? That's because it is! The Scorpion 3 is a quadcopter drone that has a bike's structure on top. So, you power up the drone, seat yourself on top, and hover around everywhere! How cool is that?
The drone can fly up to one hour on a full charge and carry a large payload. The rider gets manual control over the drone, but some pre-installed safety limits ensure a controlled journey or flight. It's easy to maneuver and direct and is a reliable machine overall.
Various police squads are currently testing the bike to assess its usefulness in high population density areas. If you buy this machine, you'll need to check your local laws as some regions have placed a 20 ft flying limit on it. It can fly much higher, though, reaching altitudes of 33 feet with a rider seated on top.
#4 The Augmented Aerigon Drone Phantom Flex 4K – $250,000
Ranked fourth in the list of the most expensive drones is the Augmented Aerigon Drone, which costs about $250,000. This drone is the machine of choice for dedicated photographers and cinematographers. It's one of the highest quality drones on the market, offering top speeds, power, stability, and control. This machine is made keeping directors in mind, so if you need a drone to shoot your next commercial, this is the one to spend your cash on.
The drone's pre-installed camera shoots 4K at 1000 FPS, so you know you'll have excellent quality output. It takes 45 minutes to charge, and the flight time isn't the most ideal. It can fly for around 7-15 minutes, depending on the payload required to carry. The signal range goes up to 1000 meters, and the machine weighs under 15lbs.
It does cost an arm and leg, but hey, you have to give some to get some, right?
#3 The Gasoline Hybrid VTOL UAV FD180P – $260,000
Ranked third in the list of the most expensive drones is the Gasoline Hybrid VTOL UAV FD180P, which costs about $260,000. This slick-looking drone can reach max speeds of 130 KM/H and can be remotely controlled from a radius of 1 KM, making it an efficient and capable machine. It can fly for around eight to ten hours and can take off with a ma weight of 180 kg. You also get an oil load of 40L, making this a durable remote-controlled UAV. 
Both the take-off and landing mode are vertically oriented, and a little bit of a learning curve will be required before you're able to maneuver it through both safely. The drone carries 32 8,000 mAh 6S Li batteries, making it endurable during flights.
#2 The EHang 184 – $300,000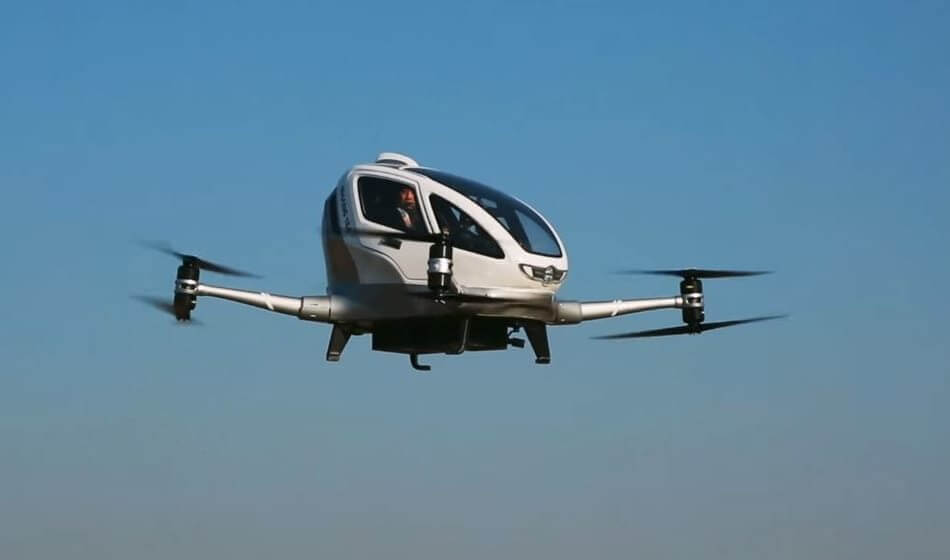 The EHang 184 is probably the best drone you could have in your hands. It ranks first on the list of the most expensive drones in the world and is currently priced at $300,000.
It's controlled through an app and can fly to over 11,000 feet above sea level. It flies for around 23 minutes and can reach top speeds of 63 MPH. What's most impressive about this machine is that it weighs 440lb, and it can also transport an extra 220lb along with it.
Another cool detail you'll love: this drone is manually manned. You can physically sit inside the cockpit and fly it using your cellphone! This might make some people nervous, but others will love the novelty and challenge.
#1 The RQ-4A Global Hawk – $220 million
Okay, so this one isn't a civilian machine, but it is exceedingly expensive. The Global Hawk is an unmanned intelligent machine that is used for military surveillance by the US government. It is currently the most expensive drone in the world, worth $220 million.
This particular one was shot down back in 2019, but the company makes thousands of units and has been since 2001. Global Hawks have wingspans of more than 130 feet and can fly at altitudes of 60,000 feet. They can also stay in the air for 34 hours in one go. Talk about resilience and machine excellence!