In this selection, the 10 most expensive paintball guns in the world are highlighted. Although the game originally brought some fun for children, it eventually evolved into a much more complicated game with its own success rules and formulas.
It is no longer a children's game, it has become something that adults actively participate in, and it creates a terrain for paintball shooting that accurately mimics the terrain of a battle zone, such as dark rooms and dense forests. However, the most important tool is of course the paintball gun. There are many weapons available, they have unique qualities and attractiveness, some of them may even hurt a lot and even leave bruises on the body.
In recent years, the popularity of paintball has been greatly promoted, so it has been introduced even in popular TV shows. This growing popularity has greatly increased the price range of guns, leaving some high-priced paintball guns with a hole in people's pockets.
Here are the world's top 10 most expensive paintball guns:
#10 Bob Long Marq Victory V2 – $1,249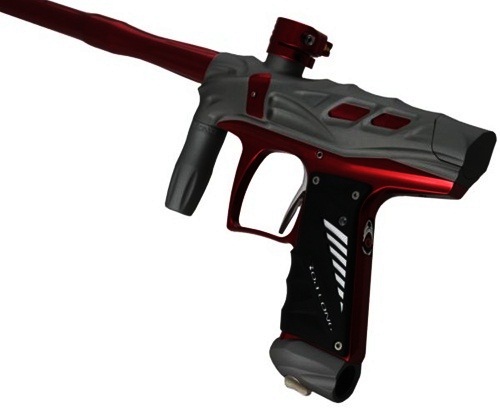 Some of the different versions available on this particular piece are V2 Victory Titanium, V2 Victory White, and V2 Victory Dust Black. These appeared during 2007 and have been a favorite ever since.
Even if they don't look like real weapons, which is good for those who don't really care about real weapons and violence, and don't want to delve into the illusion of playing in real war. Some of its outstanding features are 3D molded rubber grip panels, supercharged engine, and several others.
#9 Planet Eclipse Geo 3 – $1,345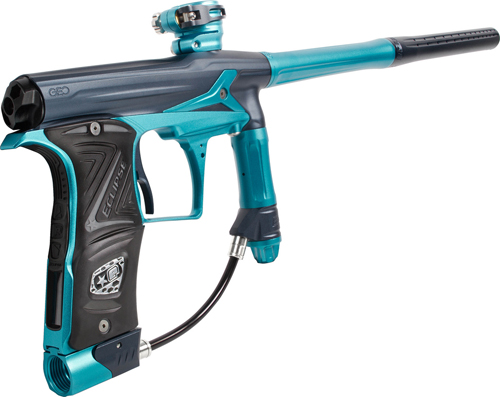 This one doesn't look "realistic" like many other weapons, but it definitely adds to the interesting factor and could easily be a weapon used in an alien film, with its water green and Atlantic blue markers, and shadows. And it comes with many customizable features and wider spacing for more space to hold with your hands.
#8 WDP Angel G7 – $1,600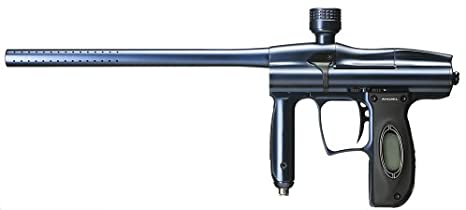 This one was made in 2013, and is the fastest in the world, with the ability to fire 31 balls per second, at a speed of 329.1 km / h, making sure that opponents leave the battlefield with some markers and reminders of superior capabilities with this weapon.
Around 1000 of these game weapons were sold in their opening week alone.
#7 Eclipse 07 SL74 Ego Paintball Gun – $1,995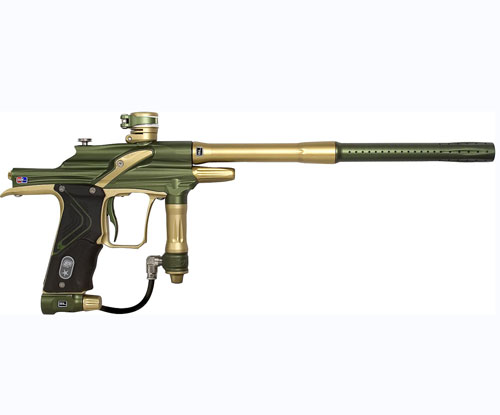 This is an electro-pneumatic, open-screw, stack-tube paintball gun that was introduced in 2004. It can shoot 14 balls per second and comes with an inline SL regulator, SL valve guide kit, SL trigger, and 5-piece SL axle barrel kit. And it comes with an auto-fire mode, a double grenade launcher.
#6 RAP4 T68 30 Cal M1919 Browning Machine Gun – $2,500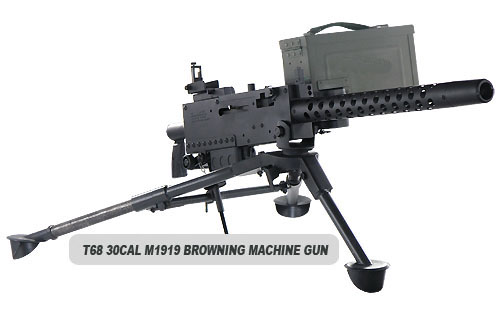 The design for this paintball gun is a completely realistic copy of the M1919 Browning Machine Gun, which was again used by the United States forces during World War II and the Vietnam War.
It was the used weapon mounted on airplanes and helped to win a decisive victory in many battles and eventually the war itself. It can also help the user and his team with an advantage over opponents with unparalleled firepower and the ability to easily deflect in any direction.
#5 RAP4 T68 M249 SAW Minimi Paintball Machine Gun – $2,500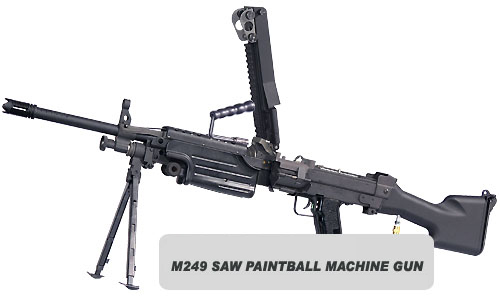 This is a gas-operated weapon that can hold 200 shots in one round. It is also extremely light and capable of rapid bursts of rapid-fire. It weighs 6.8 kg and has an all-metal exterior. It is available in 2 different versions, M249 Para Version and M249 Minimi Version. Both operate with the help of CO2 and compressed air.
#4 RAP4 T68 Avenger – $4,000
Armed with enough firepower to effectively defeat an entire team within seconds, this is an extremely powerful Rap4 weapon that requires an extremely powerful arm behind the trigger.
It was built with a twin grenade launcher, has a red dot range so as not to miss a shot, and can hold more than 400 shots in a single round.
#3 RAP4 T68 M240 Paintball Machine Gun – $4,500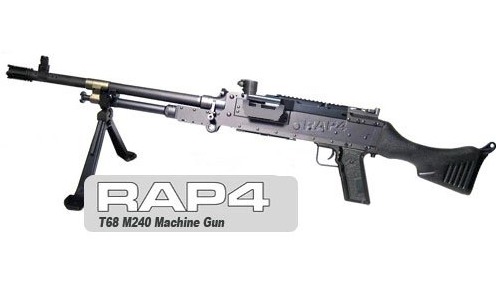 It is gas-operated and can provide a large amount of effective fire. She is very realistic in appearance, this paintball gun can easily be mistaken for a real machine gun. And that was exactly the intention too, as it is an exact copy of the M60 machine gun that was prominently used by the United States forces during the Vietnam War.
#2 Breda M37 Paintball Machine Gun – $4,999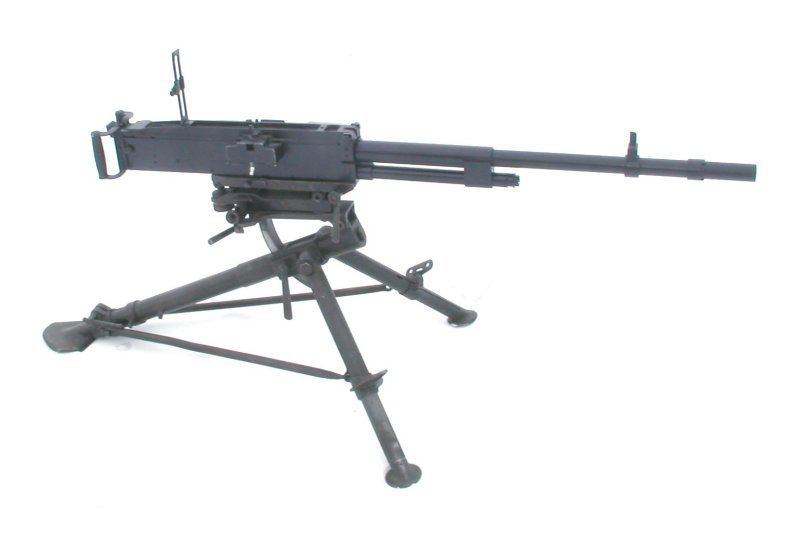 This is a custom replica by Real Action Paintball. It weighs 13.6 kg and can fire in semi-automatic, fully automatic, or short burst modes, making it a very versatile option for more experienced players.
It is the second most expensive paintball gun in the world, priced at $4,999.
#1 Crystal Bling Ego 09 – $5,001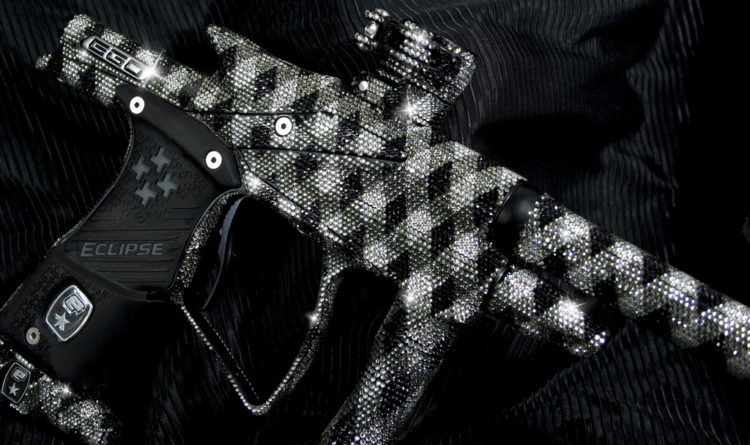 A derivation of the Eclipse Ego 09, this paintball weapon derives the most expensive paintball gun in the world from the fact that it is completely adorned with crystals. All Swarovski crystals decorating the weapon were sculpted and attached by hand. This is the only quality in which it differs from the most common weapons, but this is enough to make it very expensive and quite attractive.