There are plenty of fishing reels in the market, but choosing the best one based on durability, experience, quality, customer services, and technology matters.
Fishing is a unique hobby that people have been pursuing for ages. To tackle most fish, a fishing reel is still on priority. So the question is what kind of reel should be chosen if the premium one is not guaranteed.
There're a number of fishing reels in the market at different prices. Before we figure out which is the best, we define the top most expensive fishing reels that are the top interest of fishers for years.
Spending the most money to buy an expensive one always does not bring your required result unless you have knowledge about its premium features.
We curated the list of the top 6 most expensive fishing reels in the world for your interest.
#6 EatMyTackle Saltwater Fishing Reel | Blue Marlin Tournament Edition – $600+
The best and premium level fishing reel costs you $600. The gear ratio of this one is 2:5:1 and 1:3:1. The gears of this product are manufactured in stainless steel along with a CNC machine.
It has a flawless drag system maximum of 155 lbs. It has a line capacity of 1025 yards of 80lbs plus mono 1740 yards of 200lbs braids along with 9.6 pounds weight.
The unique two-speed function allows you to catch the fish more efficiently. It is the sixth most expensive fishing reel on our list. You may consider it because it doesn't cost you an extra penny. It is under your budget.
#5 Daiwa SALTIGA 5000H Spinning Fishing Reel – $800+
The Daiwa is the best choice for sports lovers or picnic lovers. The Daiwa company added an Automatic Tournament Drag feature in this reel for smooth dragging performance.
The reel also has a mag seal plus bearing and line roll which enhances its longevity and durability. The mag seal helps out the angler to catch its target fish tightly. The reel has further features like Twist buster II, Manual Bail Returns, Tough Air Bail, and manual Linear Rotation.
The gear ratio is 5:7:1 with a weight of 1.38 pounds. The dragging capacity is 625 grams. The line capacity is PE3/400m, PE4/300m PE6/250 in Monofilament 25lb/300 yards, 30lb/240 yards, 35lb/180 yards.
#4 Shimano Stella Spinning Fishing Reel (STL18000SWBHG) – $1,100+
The best feature is long-lasting smoothness and ability to handle power. It has a weight of 1.98 pounds which makes it lightweight. Its reel strength makes it the most demanding reel in the fishing world. Improved technology makes it the most wanted reel and the leader of spin reels. This reel is under your sleeve and will not mortgage your house.
Its features are, silk aluminum-made handles, 1-piece shaft, 15 shielded ball bearings, 5:7:1 gear ratio, power Pro and mono capacity, maximum-55 drag capacity. Drag capacity makes it easy to handle or catch even large fish.
This really costs between $1100 to $1400.
#3 Shimano Force Master 9000 Electric Fishing Reel – $1,800
The distinct point of this reel is its electric display that works best for bottom fishing. The cost makes it pricey but it gives immense hosting power along with satisfactory performance. There are a number of specifications of this reel that make it an expensive reel not only in our list but in the market as well.
Its cool features are 245/25 drag capacity, 3.1 gear ratio along with 1500g weight, 75mm long handle reel, bearing 3/0, volume 88cm, electric steering wheel, 31m electric hoisting speed, total 135m speed, 90mm diameter dimensions, and 62mm width. Besides, hosting speed is 1kg load: 118 m/min, 2kg load: 114m/min, 3kg load: 109m/min.
#2 Daiwa Dendoh Marine Power Fishing Reel ( Deep Sea Power Assist) – $3,280
Dendoh Marine reel is specifically made for weighty fishes, rigs, and lines. Daiwa's power lever delivers swift winding speed. The aggressive drag lever ensures calibrated strike agitation. Daiwa is a premium brand in the fishing industry.
This reel includes a machine-cut aluminum frame, spool, and lateral plates, chrome steel gear, a guide, CRBB anti-corrosion bearings, and max load capacity. It has a 120lbs braided line.
The reel has a protective layer that removes debris and dirt. The reel has a compact battery pack and manual cracks.
#1 The Holy Grail Fishing Reel – $58,000
Expensiveness is something we associate with high quality and the concept of the most expensive fishing reel is incomplete without Holy Grail Fishing Reel. It is still the queen of all reels in terms of price.
The reel sold out at $58000 for the first in London in 2011. The Costliest reel does not mean, it brings the most fish from the bottom. The expensive reels just facilitate you and ease you!
There're a number of brands but the Holy Grail is considered the number one brand.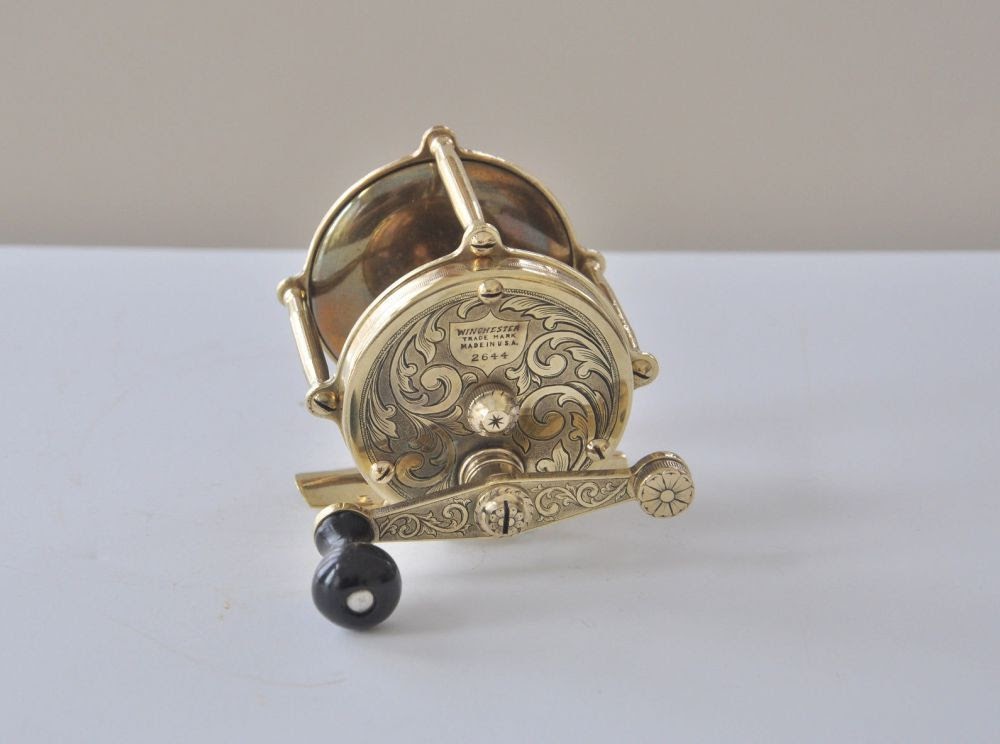 All is Together
To carry your most favorite hobby, something like fishing cannot perform without a suitable fishing reel. The next step is which reel is more competent for this process. The more expensive reel you possess, the better way it will facilitate your passion.
Specially fishing retrieves line's capacity matter to catch weighty fishes. Fishers have various types of reels to pursue their livelihood. The market reveals different types of reels at different prices. In this post, we came up with the top 6 most expensive fishing reels of the market. Choose one of them and carry on your hobby.
Happy reading!