Properties of large jewelry houses and private collectors who love beautiful pieces, the rubies presented in this article are stones with high investment value, coveted by many bidders, and many characteristics define the price of rubies.
Many of these gemstones sold far beyond their original estimates.
Here is the top 10 most expensive ruby in the world.
#10 A Ruby and Diamond Ring ($ 3,450,718)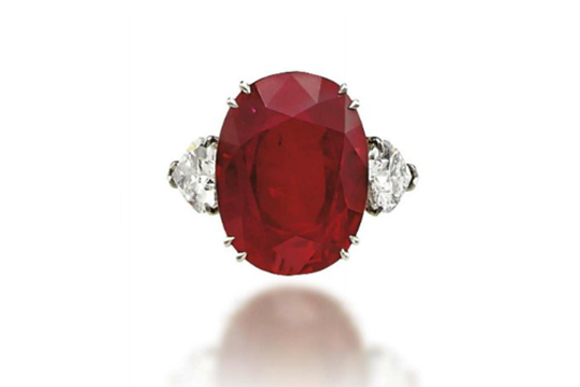 This ruby ring was sold with a Burmese center ruby of 30.20 carats. Price of the jewel: 3,450,718 dollars, or 114,262,185 dollars per carat. The acquisition was made at Christie's in Geneva in May 2011.
#9 A Harry Winston Ruby and Diamond Ring ($ 3,935,105)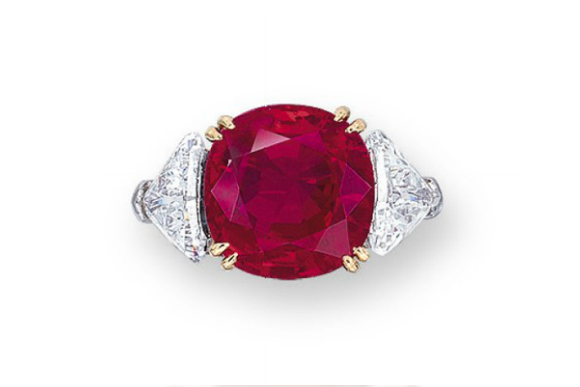 This Burmese cushion-cut ruby ​​weighs 8.99 carats was sold at $ 3,935,105, or $ 437,720 per carat by Christie's Hong Kong in November 2013. This ruby ​​has extraordinary characteristics: a bright red color called "pigeon blood" Typical of the Mogok Valley, combined with excellent purity and a cut that enhances it. A natural Burmese ruby ​​of this quality and size is very rare and exceptional.
#8 The Regal Ruby  ($ 5,967,465)
This Burmese ruby ​​of 13.21 carats, in the oval cut, was mounted in a ring with diamonds on 18 carats white and yellow gold was sold for 5,967,465 dollars total or 451,738 dollars per carat at Christie's in Hong Kong in November 2013.
The ruby is a bright red with excellent purity. It contains few inclusions, and the ones found are tiny. The ruby ​​"step cut" cut gives the stone a remarkable shine.
#7 The Queen of Burma Ruby ($ 6,084,559)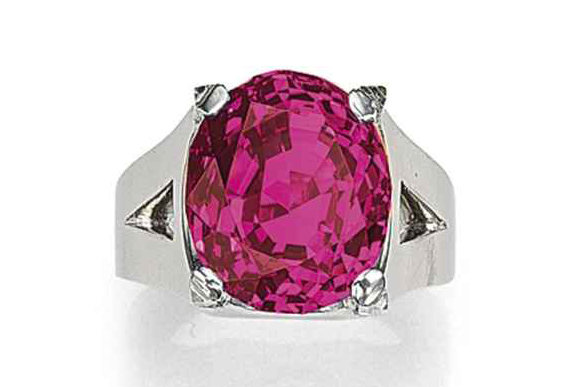 This Burmese oval ruby ​​of 23.66 carats, mounted on a platinum ring by Cartier in 1937, was sold for $ 6,084,559, or $ 257,166 per carat at Christie's in Geneva in November 2014.
The stone displays a richly pink-red color-saturated and homogeneous. Its high transparency added to the finesse of the cut, and the proportions of the stone provide intense shine and multiple reflections. The rarity of this ring is found not only in the beauty, quality, and Burmese origin of the ruby but also in the historical provenance of the jewel.
The transaction was accompanied by a copy of Cartier's letter stating the date of purchase (November 6, 1937) of the ring sold to His Highness, the Maharaja of Kutch. This makes the ruby ​​"Queen of Burma" a very exceptional treasure.
#6 The Patiño Ruby and Diamond Ring ($ 6,736,750)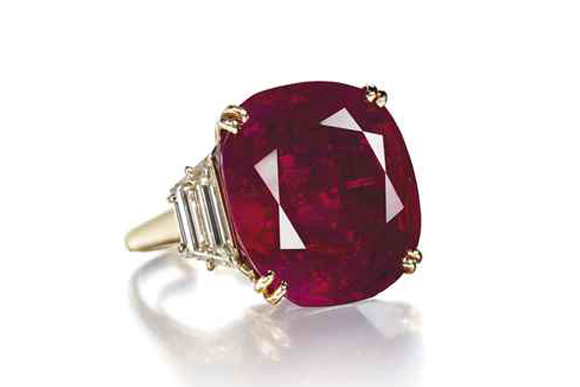 This Burmese ruby ​​of 32.08 carats, cushion cut, pigeon blood color, mounted in a ring with diamonds by the jeweler Chaumet for Luz Mila Patino, was sold for $ 6,7362,750, or $ 209,998 per carat, at Christie's in Geneva in May 2012. The stone, a bright red characteristic of the purity of Mogok rubies, was initially estimated at between 3 and 5 million dollars.
#5 A Cartier Ring in Rubies and Diamonds ($ 7,379,953)
On April 7, 2014, during a sale of jewelry pieces organized by Sotheby's in Hong Kong, a Cartier ring set with a Burmese oval Mogok ruby ​​of 29.62 carats was sold for $ 7,379,953, or $ 249,154 per carat.
#4 A Cartier Pin in Ruby and Diamond ($ 8,428,127)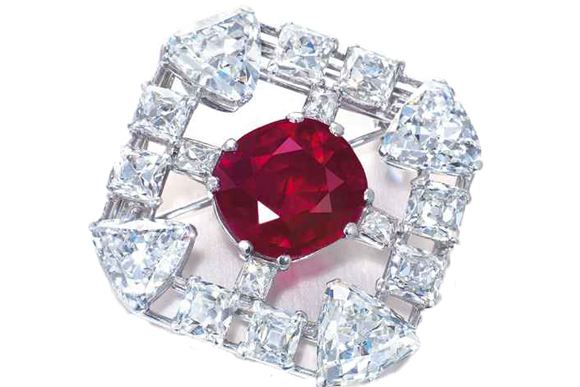 This jewelry is made up of a Burmese ruby ​​of 10.10 carats, and cushion cut sold for $ 8,428,127, or $ 834,468 per carat, at Christie's in Hong Kong in November 2014.
It is a ruby ​​from the Mogok valley in Burma, well known for the richness of its precious stones. Extremely rare, it has been set in platinum and accompanied by diamonds. Spared from any treatment, its color and clarity are entirely natural.
#3 The Graff Ruby ($ 8,600,410)
This Burmese ruby ​​of 8.62 carats, cushion cut, supported by two triangular diamonds and mounted in a ring by Graff, was sold for 8,600,410 dollars or 997,727 dollars per carat by Sotheby's in Geneva, in November 2014.
"Graff Ruby" was the undisputed star of the sale of Haute Joaillerie. From the Dimitri Mavrommatis collection, this spectacular stone was purchased by Laurence Graff. The red "pigeon blood" color of the "Graff Ruby" is characteristic of the rubies of the Mogok mines in Burma, considered as precious stones the rarest in the world.
David Bennett, President of Sotheby's Switzerland and of the Haute Horlogerie Department in Europe and the Middle East, said: "The Graff Ruby has bewitched all those who laid eyes on him. This stone is a jewel among the jewels, and quite only the most exceptional size ruby ​​I have ever seen. "
#2 The Crimson Flame Ruby ($ 18,382,385)
Ranked second in the list of the most expensive rubies in the world is Crimson Flame Ruby. This Burmese pigeon blood ruby of 15.04 carats cut in the cushion and mounted on a ring in the center of a crown of diamonds, obtained the record price per carat for a Burmese ruby.
It was sold for 18,382,385 dollars by Christie's during the Magnificent Jewels sale, in Hong Kong, on December 1, 2015, thus exceeding the initial estimate, which was between 10 and 15 million dollars. It is the most crucial ruby ​​of this type offered for auction in Asia.
#1 Sunrise Ruby ($ 30,335,698)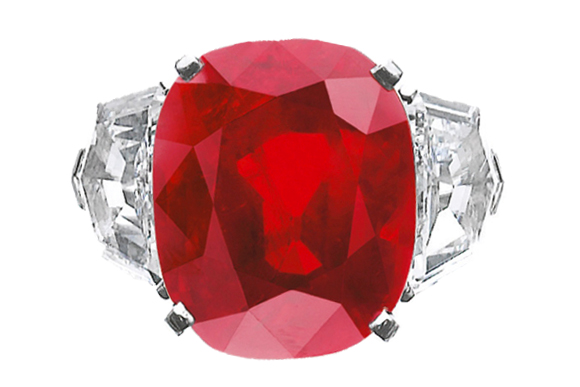 The Sunrise Ruby is one of the biggest Burmese Rubies in the world. Sold by Sotheby's at their May 2015 Geneva auction, this extraordinary ruby broke two world records when it finally sold for 28.25 million Swiss francs, or $30.4 million USD.
Besides being the most expensive ruby in the world, It is also the most expensive colored gemstone ever sold (apart from colored Diamonds) and it is also the most expensive price per carat of any Ruby previously sold.