Whatever the reason, diamond necklaces have continued as a significant jewelry attraction for numerous millennia. And there is no doubt that they will continue to do so long after we are gone.
Let's take a look at the top 10 most expensive diamond necklaces in the world.
What are the Most Expensive Necklaces in the World?
# 10 The "Red Scarlet" Diamond Necklace ($5.1 million)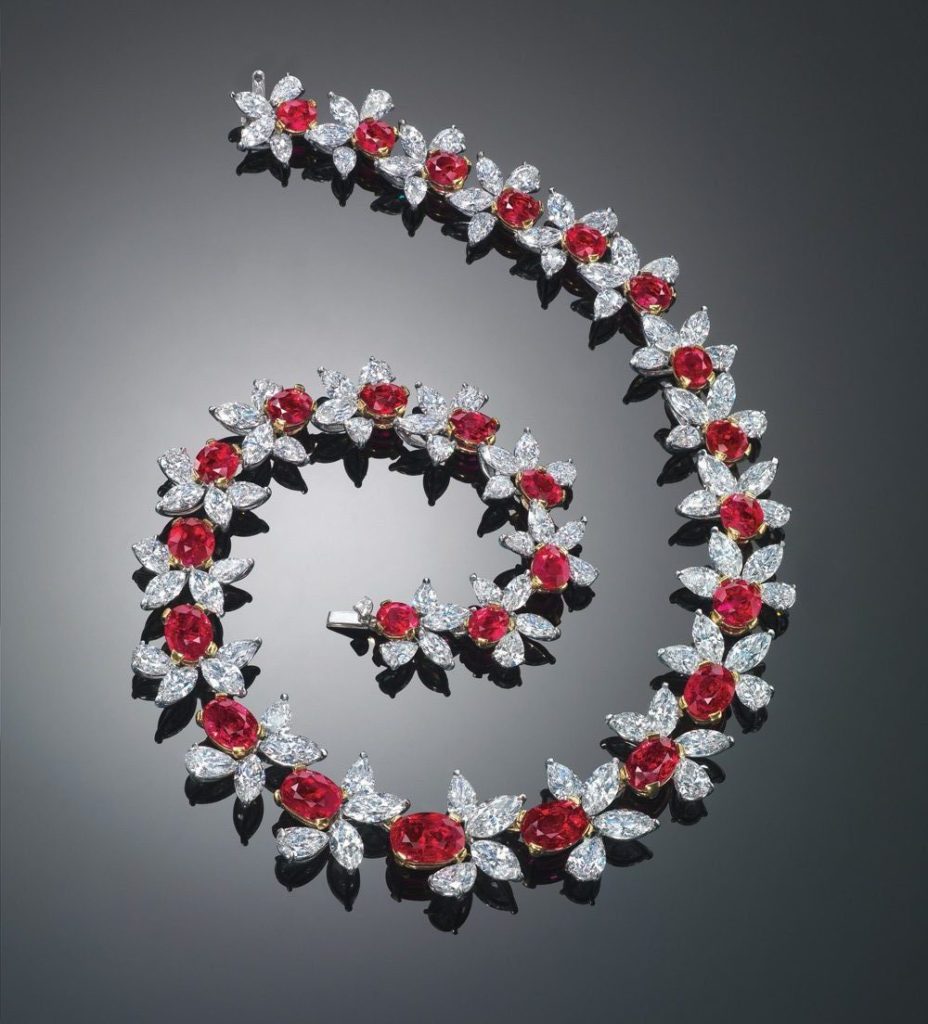 Designed by the renowned jeweler James Currens, this huge piece was sold for a staggering $5.1 million at the Christie's Hong Kong auction in November 2012.
This magnificent object features 26 oval pigeon blood Burmese rubies weighing 1.27 to 5.38 carats. Each ruby is enhanced by a cluster of pear-shaped and white marquise diamonds.
Diamonds and rubies are strategically placed to create a decorative effect, making the necklace similar to a lei of a flower. Precious stones are set in 18k white gold and precious platinum.
#9 The "Mrs. Winston" Diamond Necklace ($5.8 million)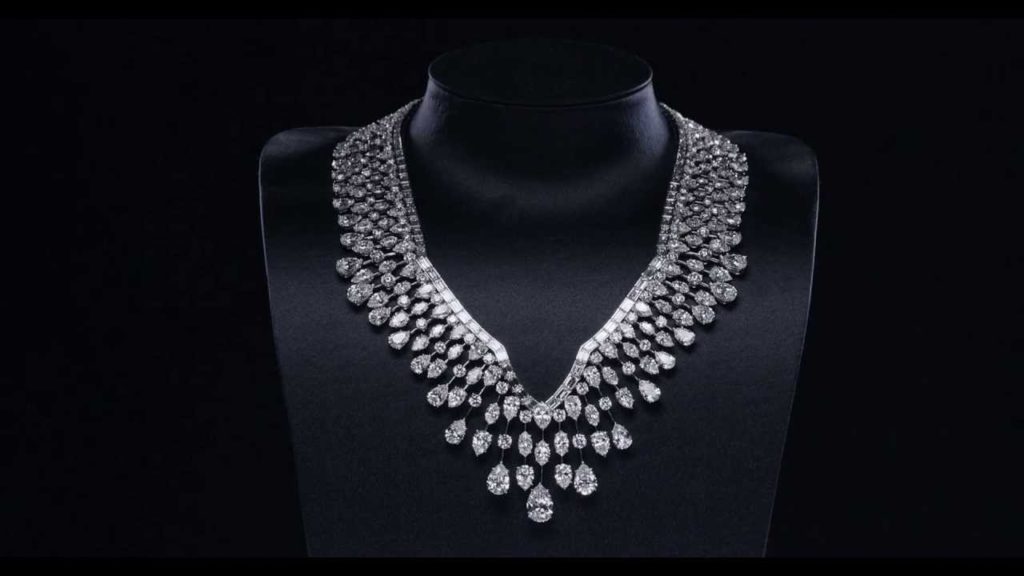 "Mrs. Winston" is a cascading diamond necklace that can hold a total of 187.5 carats of quality white diamonds, most of which are pears. These precious stones flow from the diamond band to the middle of the product. Place three large diamonds at the bottom to add weight to the necklace and accentuate the tapered look of the jewelry.
"Mrs. Winston" has a total of 207 diamonds, a nostalgic impression of 1950s culture.
The elegant Jessica Alba demonstrated this beauty at the 2013 Golden Globes awards ceremony. At the awards ceremony, this classic V-shaped necklace perfectly complemented Jessica Alba's glamorous gown.
This piece is worth $5.8 million, as all diamonds are set in platinum and come in D, E, or F colors, guaranteeing exceptional quality.
#8 Etcetera's Burmese Ruby Necklace ($6.4 million)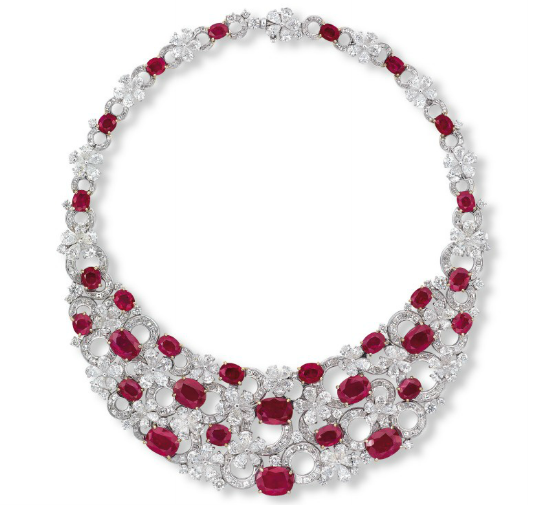 The Etcetera Burmese Ruby Necklace is considered the most expensive ruby necklace in history as it was sold for up to $6.4 million at the Christie's Hong Kong auction in November 2013.
This stunning piece resembles a lace collar with 87.78 carats of oval and white pear-shaped diamonds and Burmese rubies. Each ruby is connected to a wave of diamonds, and six pear-shaped diamonds hang from the edges of the streams, creating a dripping effect.
#7 Christie's Diamond Necklace ($8.14 million)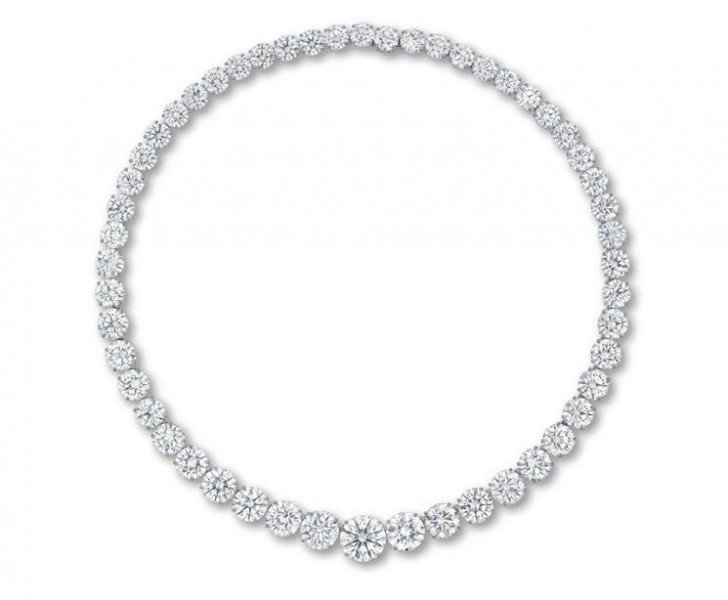 The necklace was sold for $8.14 million at the Christie's auction in November 2013. This product has an astronomical price because it has 52 round diamonds and a total weight of 104.84 carats.
Also, Christie guarantees the highest clarity and quality of every gem. Therefore, this full diamond stunner can provide intense flames and sparks, which are unmatched by other necklaces.
#6 Leviev's Vivid Yellow Diamond Pendant ($10 million)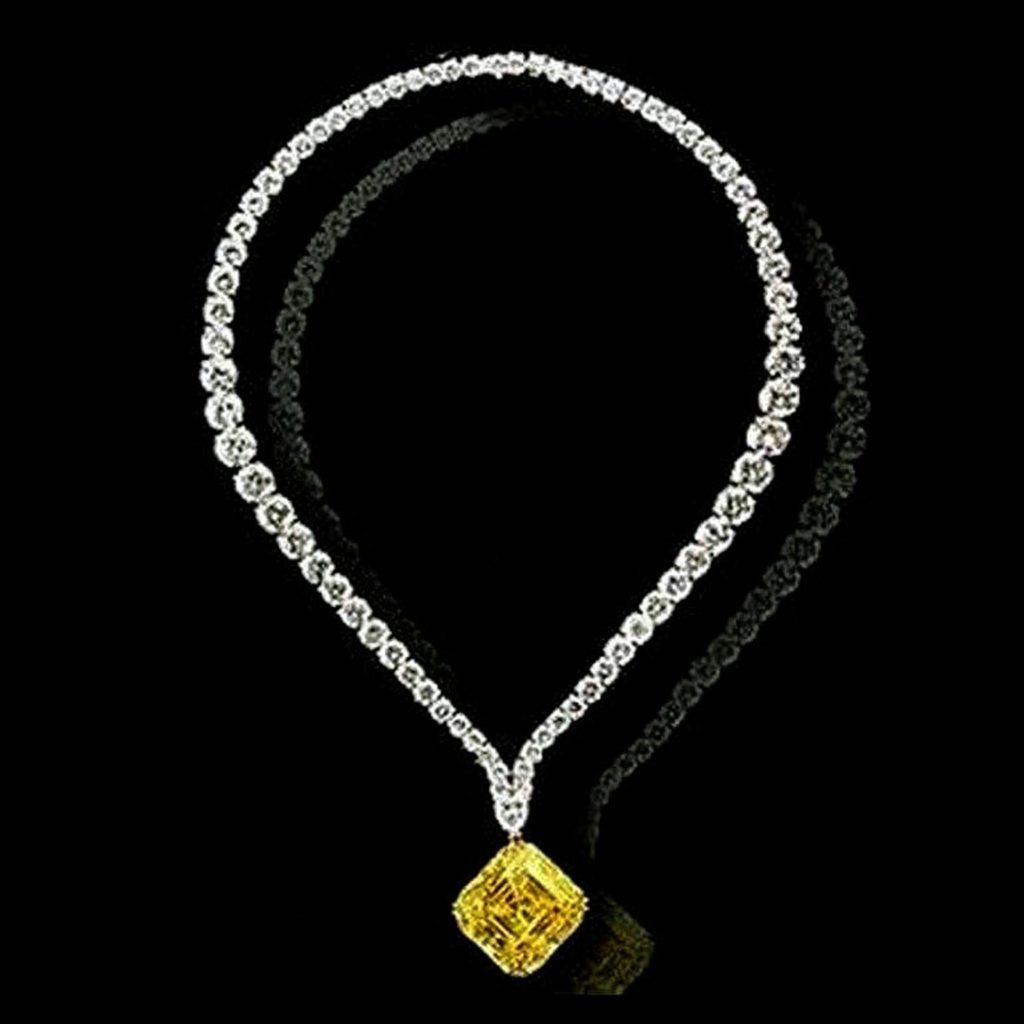 Israeli diamond trader Lev Leviev sold the masterpiece for as much as $ 10 million. Reason for the high price: This necklace has a 77.12-carat bright yellow diamond, supplemented by a string of white diamonds.
Leviev found this precious gem in one of his mines, and it has been recorded as one of the world's largest Ascher cut diamonds.
#5 The Star of China Necklace ($11.1 million)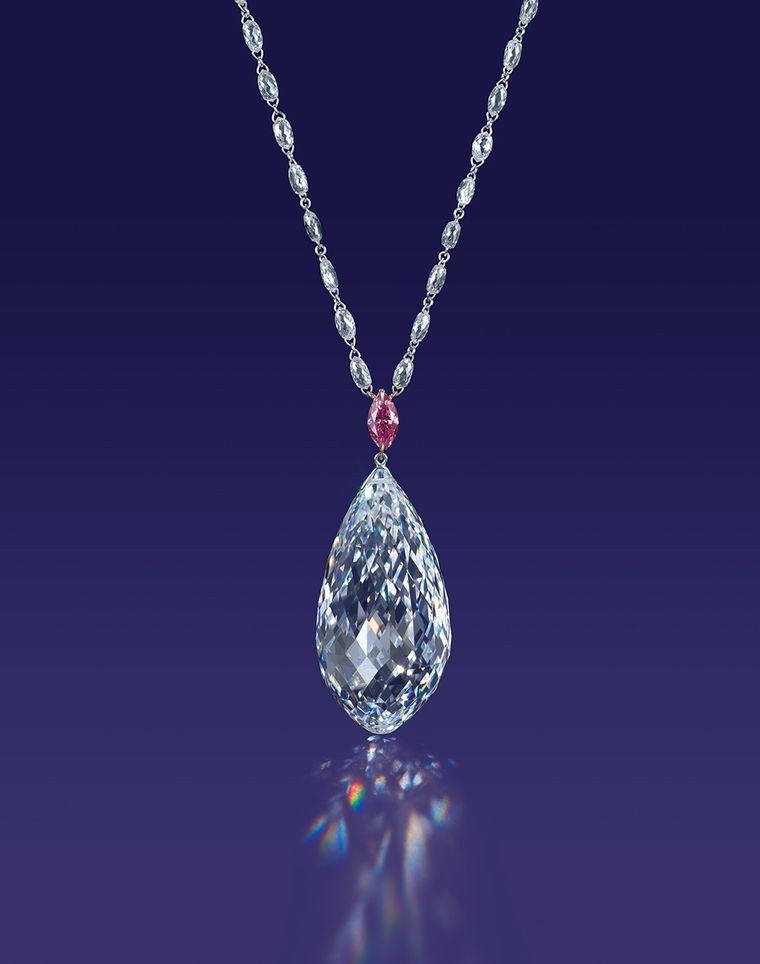 In fifth place of the top 10 most expensive necklaces is the world's largest (75.36 carats) Briolette diamond "China Star" diamond necklace, known as "China Star". The necklace was sold at Christie's in 2013 for $11.1 million. For sale.
Chief craftsman William Goldberg spent six months cutting 160.5 carats of rough into the largest and most perfect brioche diamond ever made.
#4 The "Heart of the Kingdom" Necklace ($14 million)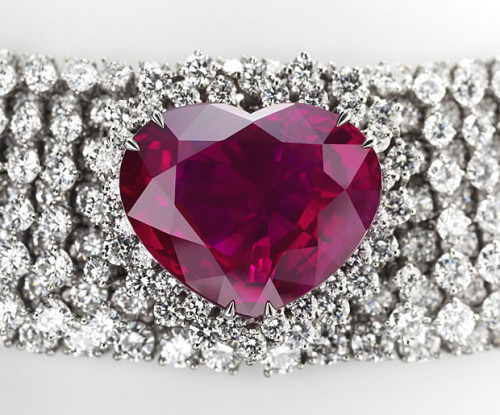 Founded by the famous jewelry maker Garrard and Company, this stunner is set in a band of 155 carat pear-shaped and round white diamonds. These stones surround one of the largest Burmese rubies in the world. This heart-shaped ruby weighs an astonishing 40.63 carats. Its deep blood pigeon red tones add to its appeal. Besides, the necklace is flexible so that you can wear it as a headdress.
Kingdom Hearts has a total of 150 diamonds. A Swiss laboratory has proven that dazzling rubies are extremely rare and very authentic. No wonder this price is a staggering $14 million.
#3 The "Heart of the Ocean" Sapphire Necklace ($20 million)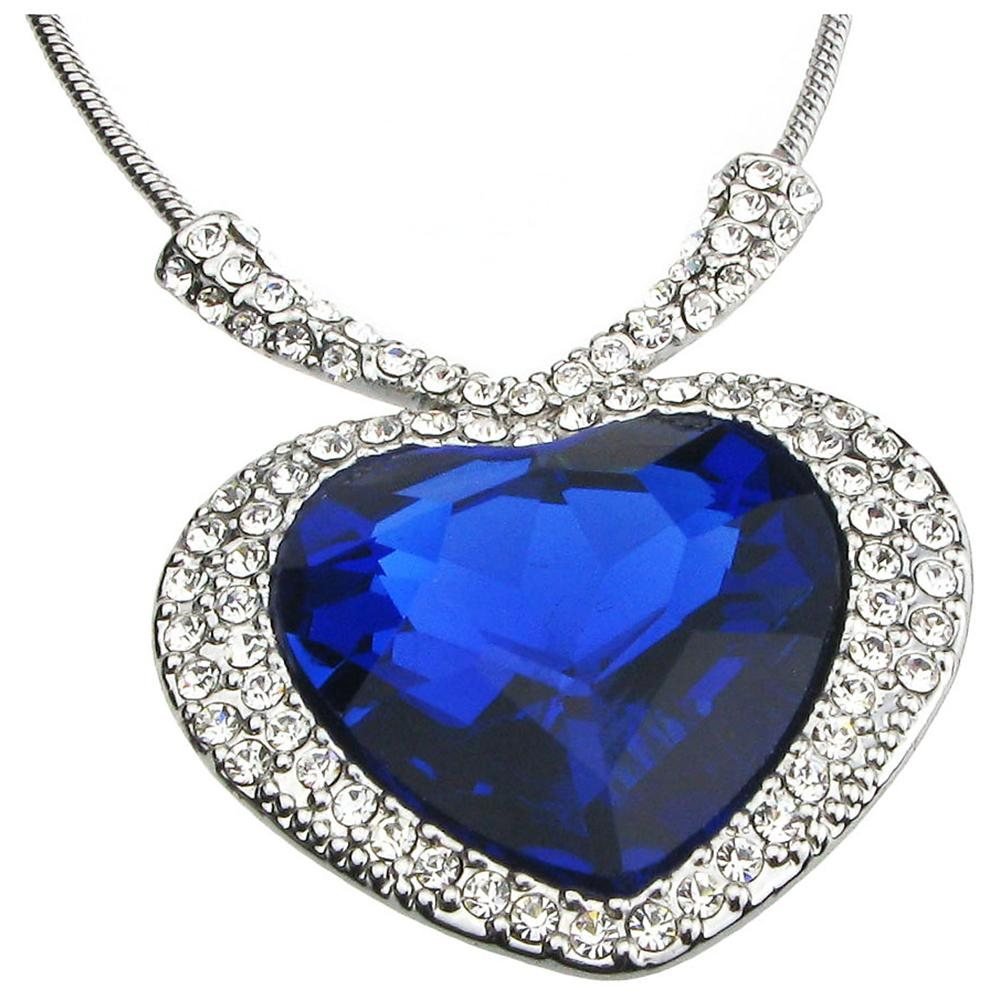 Most of us are familiar with a copy of Kate Winslet wearing the 1997 film "Titanic", initially produced by Harry Winston. Gloria Stuart wore this stunning blue sapphire and diamond necklace at the 1998 Academy Awards.
Winston's original diamond necklace had a stunning 15-carat blue diamond, which is why it was so expensive, and the replica worn in the movie cost only $10,000.
#2 The "L'Incomparable" Diamond Necklace ($55 million)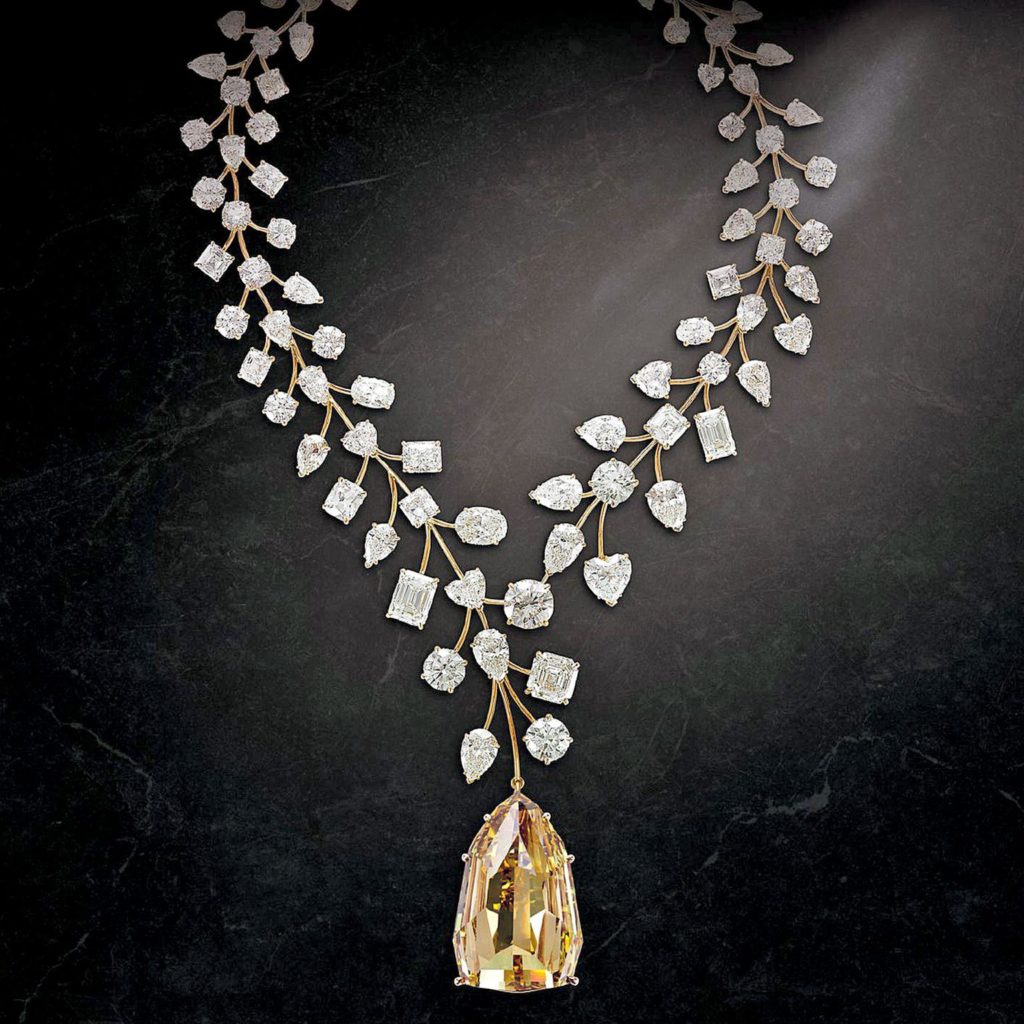 Mouawad created this stunning masterpiece in 2013 – the 637 carats 'L'Incomparable' diamond necklace worth an incredible $55 million.
At the time, it was named the world's most expensive diamond necklace by the Guinness World Records.
The "L'Incomparable" necklace cost $55 million, thanks mainly to its precious pendant gemstone, a flawless brown-yellow diamond weighing 407.48 carats.
Apart from this massive rock, the necklace is decked with 35 round diamonds, 27 pear-shaped diamonds, nine heart-shaped diamonds, five emerald-cut diamonds, five cushion diamonds, four oval diamonds, three Asscher-cut diamonds, and two radiant diamonds.
Aesthetically speaking, "L'Incomparable" is like a vine, with the central stones hanging from the stem.
#1 A Heritage in Bloom Diamond Necklace ($200 million)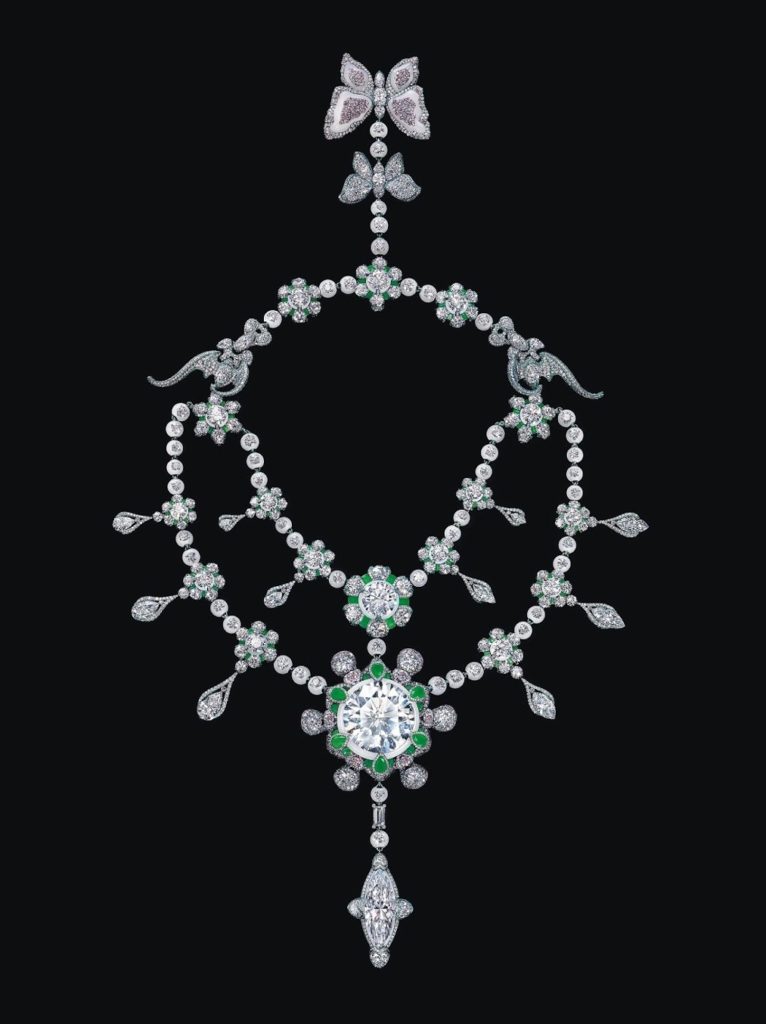 History was rewritten when Wallace Chan unveiled a $200m masterpiece blowing all previous records out of the water.
Chinese master craftsman Chen Shiying designed this masterpiece of jewelry called "A Heritage in Bloom", with an estimated value of 200 million US dollars, it is not only called the most expensive diamond necklace in the world, but also the most expensive necklace in the world.
There are 383.4 carats of diamonds in this piece, and the bright diamonds used alone are worth $35 million. Most importantly, this necklace also includes 72 white goat fat jade and 114 ice-green emeralds!
The design of "A Heritage in Bloom" uses a flawless internal diamond carved by Cullinan Heritage, which is a scarce type 507.55 carat type IIA diamond. Type IIA diamonds are free of impurities.
It took Chen Shiying and his craftsmen 47,000 hours to complete this work.
I have only one question: if you can afford one of these treasures, do you have the courage to wear them? Or where will you hide?