This list of the 6 most expensive toothbrushes is rather unexpected yet very exciting. This is because toothbrushes are often not considered as candidates for being expensive items. You will be pleasantly surprised to learn more about why these six toothbrushes are on this list!
#6 Oral-B iO Series 8 Electric Toothbrush – $249.99
The Oral-B iO Series 8 is a powerful electric toothbrush that uses gentle micro-vibrations and a unique round brush design to clean your teeth in a professional way every day. With the smart pressure sensor, this unique toothbrush prevents hard brushing so your enamel and gums remain safe.
AI Recognition uses the interactive display on the toothbrush to guide and help you to clean all areas of your mouth in the best possible way. There is a built-in 2-minute quadrant timer that pulsates after every 30 seconds to ensure a thorough cleaning.
The smooth and friction-free magnetic drive system continues transferring energy to the tips of the bristles for a perfect clean. Along with your toothbrush purchase, you will receive 3 replacement brush heads and a premium travel case.
#5 Sonicare DiamondClean Smart 9700 – $299.95
The Sonicare DiamondClean Smart 9700 ensures superior plaque removal and improved gum health. It is the best in this class of toothbrushes for a number of reasons.
Inbuilt sensors and apps ensure that get a perfect clean each time by perfecting your tooth-cleaning technique. The exceptional results in your oral health are in part due to the premium brush heads. Based on your preferences, you can choose from the 5 modes and 3 levels of intensity so that you focus on every feature of your oral health.
Sonicare Premium brush heads are set on optimal intensity and mode automatically. The brush head reordering service orders brush heads for you automatically. Along with the Sonicare DiamondClean Smart 9700, you also get a deluxe travel case and a stylish charging glass.
#4 Oral-B iO Series 9 Electric Toothbrush – $299.99
The Oral-B iO Series 9 Toothbrush is a unique dentist-inspired toothbrush with a round head design. It combines gentle but powerful micro-vibrations to clean your teeth in a professional manner every day.
With the display screen, you get personalized brushing as it motivates you and helps you to customize every brushing experience. You get red signals if you brush too hard so your enamel and gums stay safe. The green signal shows that the brushing is perfect.
Additionally, you get sensational cleaning each time! The twisted bristles on the round head reach each contour to always deep clean. You get live coaching with the timer that pulsates every 30 seconds. The AI keeps track of the areas of your mouth that you have brushed, guiding you towards 100% coverage so that you don't miss any zones.
#3 Philips Sonicare DiamondClean Smart 9750 Rechargeable Electric Toothbrush – $329
The Phillips Sonicare Diamondclean Smart 9750 is an outstanding rechargeable electric toothbrush. It is by far the best toothbrush by this manufacturer because it provides complete care and exceptional cleaning.
In comparison to a manual toothbrush, this Phillips Sonicare removes more than up to ten times plaque. It will also improve your gum health up to seven times in only two weeks. Only three days of use is all you need to get rid of stains.
Some features that make this toothbrush very effective include 5 modes and 3 intensities. You can choose the right mode and intensity for optimal results. Additionally, with real-time feedback and an automated progress report, you get the best results always. The premium charging case stores 4 brush heads and allows charging during storage.
#2 Philips Sonicare 9900 Prestige Rechargeable Electric Power Toothbrush – $399
The Phillips Sonicare 9900 Prestige is number 2 on our list of most expensive toothbrushes. It is a rechargeable electric power toothbrush that provides exceptional and personalized care with SenseIQ.
This advanced electric toothbrush senses your style of brushing and adapts accordingly using its premium all-in-one brush head. It senses motion, pressure, and coverage up to 100 times in a second. By adapting to your brushing in real-time, the Phillips Sonicare adjusts the intensity when you push too hard.
By providing optimal care for your oral health, the toothbrush cleans and whitens teeth, protects your gums, and helps you to brush better with time. One of the best things is that you do not have to switch between heads because the premium all-in-one brush head is the only head you need.
The AI-powered app works with Phillips Sonicare so that your data is always synced and provides personalized guidance always. You also get a premium travel case and USB-C charging that works while it is stored in the case.
#1 Reinast Titanium Luxury Toothbrush – $4,200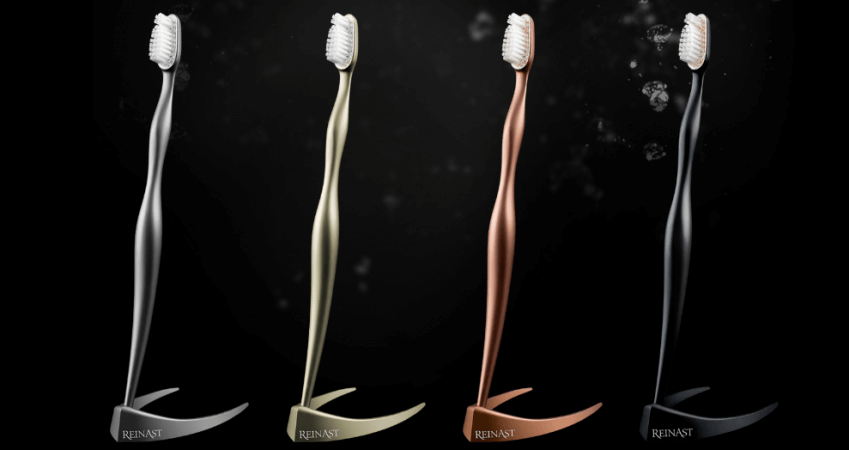 At the top of our list of most expensive toothbrushes is the best one you have ever seen, the Reinast Titanium Luxury Toothbrush.
Though it is not an electric toothbrush, it is considered to be extremely special. This is because of its exceptional design and durability, and the special trademarked anti-bacterial coating. You cannot simply throw it away either. Instead, you can detach the bristles from the metal base and replace the brittle head.
With this amazing toothbrush, you get a free three-year service plan that provides new bristle heads after every six months. After the free three-year period, you will have to pay for replacement bristles. To avoid the metallic taste, you can use bumpers offered by Reinast for the familiar plastic feeling of a regular toothbrush.
This very expensive toothbrush is designed only for people who value beauty, quality, and exclusivity above all and it is quite popular among several billionaires.