The use of knives is not new, they've been used since ancient times, and most interestingly the use of knives has increased in our daily life. They are not only used in Kitchen but also as a security gadget.
Pocket knives were introduced in the market to cope up the security issues. Pocket knives are famous for their elegant style, outer beauty, and high quality.
In this post, we have curated a list of the top 10 most expensive pocket knives that are very elegant to look at.
#10 Black Panther Knife – $7,700
Black Panther Knife is a beautiful and elegant knife that you can find on expensive gift stores. It looks like a hunting knife, but its decorative touch makes it the most wanted knife.
Black Panther Knife is made with Damascus steel along with a Panther head which gives it a unique touch. The sheath is made with walnut and silver, and the handle is adorned with gemstones coating with gold.
The blade has gold portions as well. It is an incredible gift to your male friend!
#9 Gentak Makara Knife – $ 12,500
This is another staggering knife produced by William Henry. With 24-carat gold inlays, the knife has a stunning look. Its handle is the most beautiful made with walnut wood along with precious gemstones. It was designed with Damascus steel.
If you have this one, you can feel proud and can pass it to your next generation proudly. The Makara is a perfect balance of elegance, beauty, and versatility. It comes with a beautiful leather case along with a wooden box.
#8 Monarch Steampunk Dragon Knife – $ 18,500
This stunning knife is another masterpiece of William Henry. The handle is made with 24-carat gold, silver, and copper and is best to keep inside your pocket. The blade is made of Damascus steel. This is considered the hallmark of Henry's creations.
Its high quality makes it worth $18,500. Another stunning pocket knife!
#7 Nesmuk Diamond Studded Knife – $ 39,600
This one is loved by women because of its diamond. It is the creation of Quintin Nel and Hoffman Pieper. To increase the life period of every Nesmuk Diamond Knife it is coated with titanium or Teflon.
The blade of this knife is made of carbon steel and handle with sterling steel with 8 diamonds inlay on it.
The special feature of this knife is a diamond ring with it. Just buy it and present it to your beloved woman!
#6 Nesmuk Jahrhundert Messer – $ 98,934
Nesmuk Jahrhundert Messer is the sixth most expensive pocket knife on our list. It is made by German's cutlery company Nesmuk. It is considered the most expensive knife in the kitchen and pocket. There is another ridiculous knife we will mention in the last.
Designed by Lars Scheidler the blade of this knife is made with 640 layer Damascus steel along with carbon steel.
What makes it pricey is its handle, which is made of a platinum collar set (25-brilliant cut diamonds).
Moreover, if you want to hold your hand on it, you will receive a piano Lacquer with it. Indeed it is worth your millionaire pocket!
#5 Theodore Roosevelt's Hunting Knife – $ 414,000
In September 2016, a knife of President Theodore Roosevelt set a world record of $414,000 at auction. Does it sound ridiculous to you? We are on your side too. It is famous because it was presented to American president Theodore Roosevelt in 1909.
It has an eagle shape with a head of pure gold, and garnets that adorn Eagle's eyes. It was produced by J. Russell & Co. of Massachusetts. It is 11.5 cm long and has a special place in American history. Cool!
#4 QianLong Imperial Hunting Knife – $1.5 million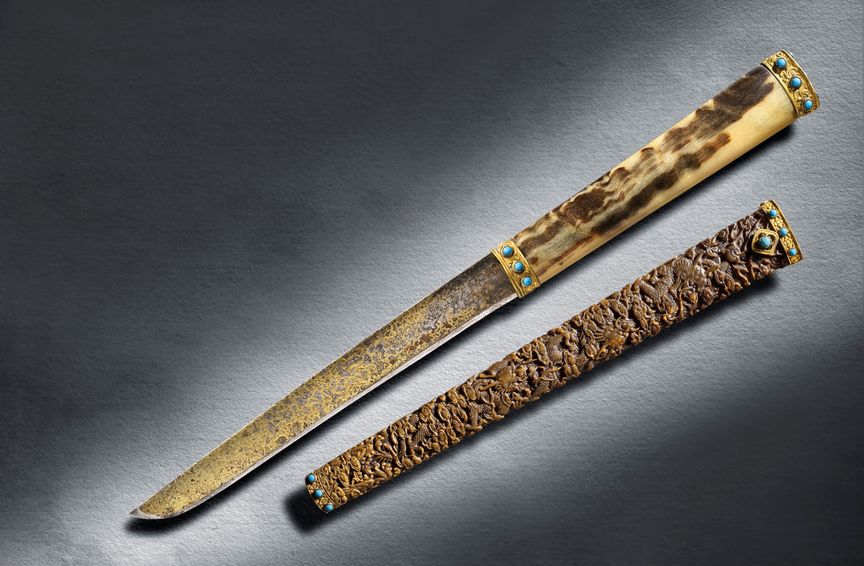 This one belongs to the Qing Dynasty between 1735-1796 of China. It is 27.3 cm long knife, 24.5 cm long sheath, the knife has jade-mounted hilt, adorn with turquoise, coral, gold gilded blade, and sheath with silver enamel, hence providing you with an antique asset of the Chinese dynasty.
It was sold at the Hong Kong Sotheby auction for $ 1.5m, making it the fourth most expensive pocket knife in the world today.
#3 The Gem Of The Orient – $ 2.1 million
The third millionaire baby is not only on our list but in the world. Buster Warenski, who belongs to the USA, made this. The precious gems make it the most expensive dagger in the world.
The look of it takes us thousands of years back in King's reign. It is adorned with 153 emeralds and nine diamonds, handle made with gold filigree, the dagger is beyond access!
It took the Buster 10 years to complete this and it was first sold in an auction at $ 2.1m. Just imagine it in your pocket and feel yourself the richest person in the world. As we are not millionaires to purchase this one, we can consider the other knives on the list.
#2 Shah Jahan Dagger – £ 1,700,000
This extraordinary dagger seems to be the second known personal dagger of the Mughal Emperor Shah Jahan. Shah Jahan reigned over the sub-continent for many years. His reign was considered a golden age in the Mughal Period.
"The dagger of the king of kings, the defender of religion and conqueror of the world. The conqueror king, the second Lord of happy conjunction, Shah Jahan, is like the new moon, but out of its shining triumphs, it makes the world shine eternally like the rays of the Sun."
The dagger has unique specifications including tapering blade, swallow tip, gold design on both sides, narrow panel, border made with silver, it has blade 20.5 cm, and length of 40.8 cm.
This item was sold for £ 1,700,000 (US$ 2,324,574) at auction, making it the second most expensive pocket knife in the world.
#1 Shah Jahan Jade Dagger – $ 3,375,000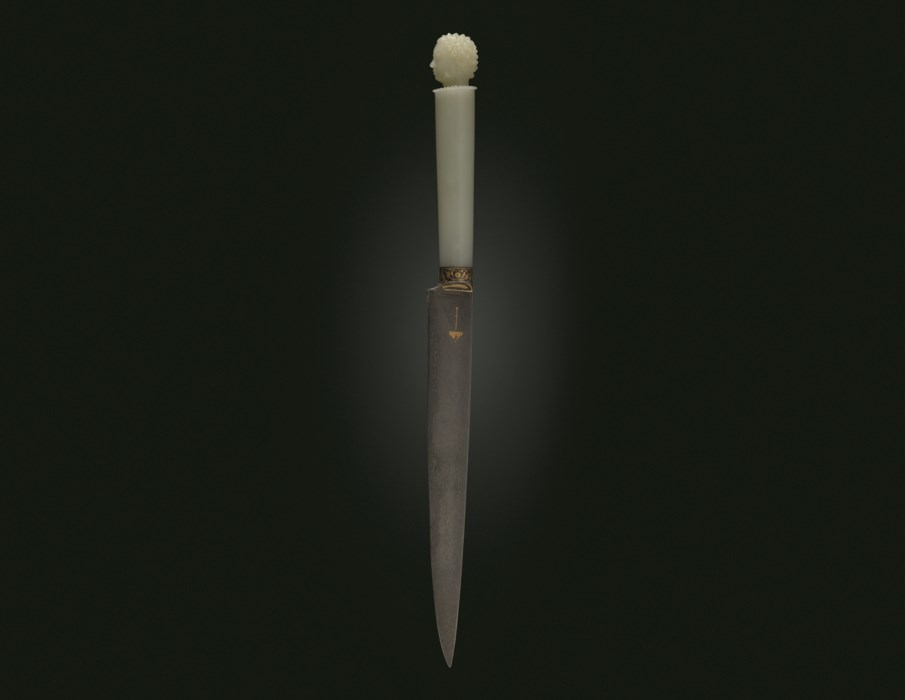 The most expensive pocket knife in the world is the unique and antique jade dagger belonging to Shah Jahan who was the dominant ruler of the subcontinent. It shows the art culture of the Mughal period.
It is considered the personal dagger of Shah Jahan. Its unique characteristics are the top of the blade is made with gold along with the inscription 'Nasta'liq'. The auction holds the highest price of this dagger which is reached $ 3,375,000.