Fashion masters and fashion-conscious customers are very aware of the degree of respect for the name Gucci worldwide. Obviously, such a noble brand is not available to everyone, so luxury goods are expensive; the most watched celebrities are always regarded as the famous GG logo. Made of real Italian leather, each item is hand-made by a craftsman, and the brand name that has existed since 1921 is marked with a high price tag, which is normal.
From handbags to belts, to shoes, to clothing, anything with the GG logo is always very expensive, and here are the 10 most expensive Gucci items in the world.
#10 Gucci Sequin Dress – $ 12,900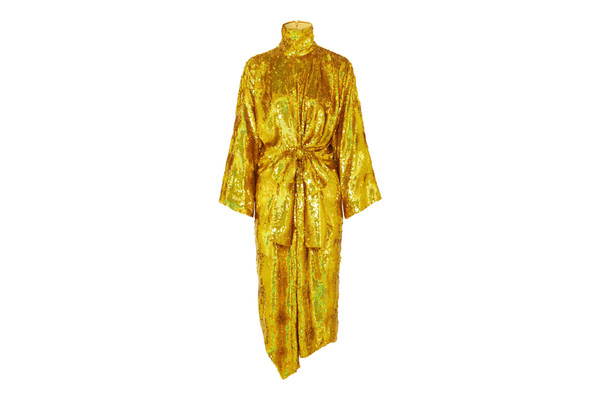 Surprisingly this is the only dress on our list. It made from the finest Silk Georgette, and the design is utterly impeccable. The price of the Gucci Sequin Dress rises to a whooping $12,900.
Beyoncé Knowles purchase this dress and has only been seen wearing it once. It has the kind of the fact that only a single appearance will make it live on forever in the memory of anyone who saw it. It will satisfy the desire of any woman to draw the attention of everyone and anyone in the vicinity. It is an overwhelming display of glamour and class.
#9 Gucci Biker Jacket – $ 18,650
This studded-leather biker jacket comes from Alessandro Michele's Cruise 2017 collection and is priced at $18,650.
The jacket begins its 40 hour journey until it is finished. Skilled craftsmen spend a lot of time applying 2400 studs to the jacket one by one in a mix of geometric and organic patterns. Since this is a Gucci item designed by Michele, all the details have been painstakingly considered, so actually 17 different types of studs have been used, six different ways have been completed, and two different types of chains have been equipped.
#8 Gucci 1921 Collection Medium Shoulder Bags – $ 28,990
These collection bags were part of a special edition to celebrate Gucci's 90th anniversary. They are priced at $28,999. This special edition includes two variants, pink and green.
The bag is made of crocodile skin and has light gold hardware and enough pockets for you to place your essentials.
#7 Gucci Soft Stirrup Black Crocodile Shoulder Bag – $ 29,990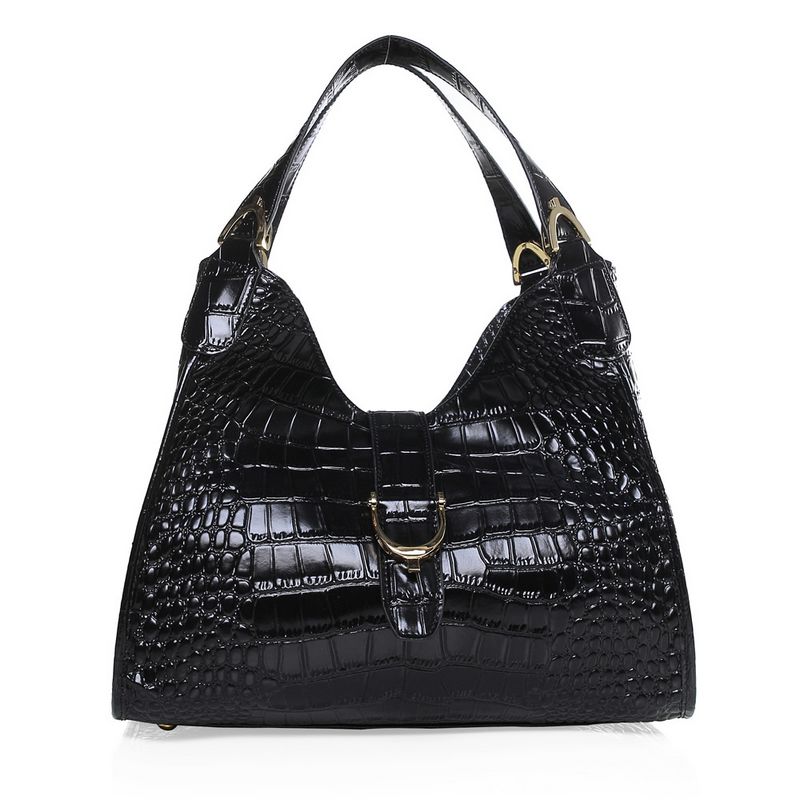 Black leather bags are one of the most important items a woman should own. And the Soft Stirrup Black Crocodile Shoulder Bag it's a must buy if you have the money.
The beautiful, luxurious bag is made of black crocodile skin, the leather being shiny and elegant. The bag will set you back by almost $30,000.
#6 Gucci Crocodile Tote Bag with Bamboo Handle – $ 32,000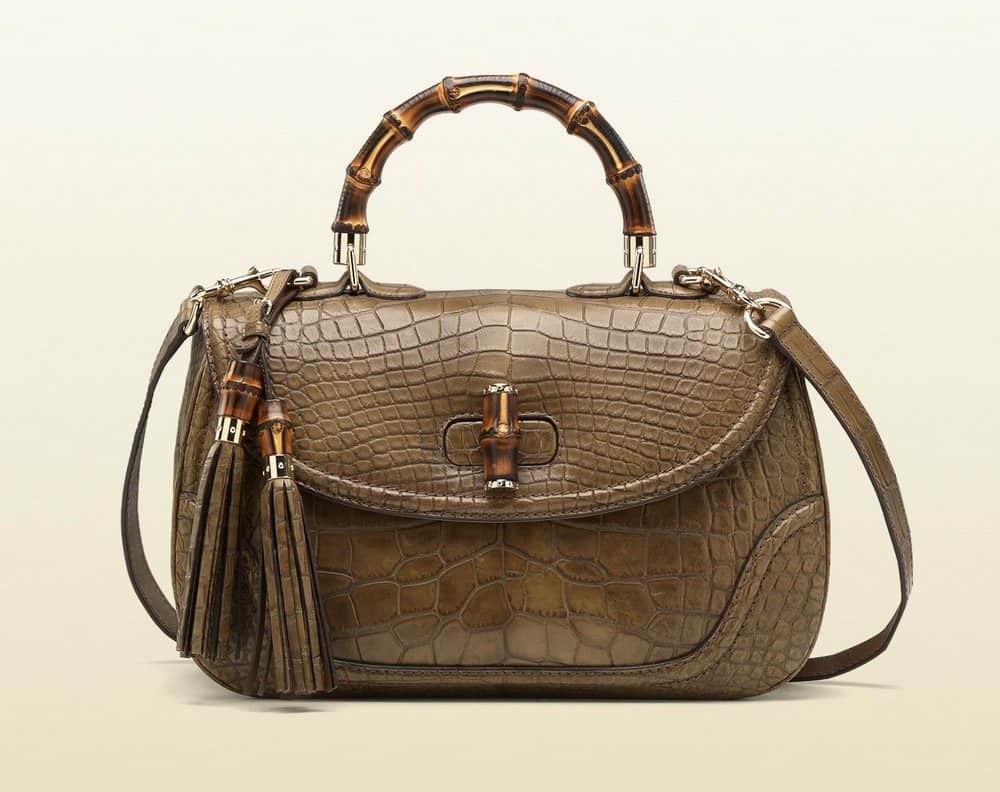 The Gucci Crocodile Tote Bag with Bamboo Handle sports the crocodile skin brown leather, is another one of Gucci's much-prized bags, which the Italian fashion house has used us with and no one else can even imitate.
It's priced at $32,000.
#5 Gucci Sylvie Black Crocodile Top Handle Bag – $ 31,000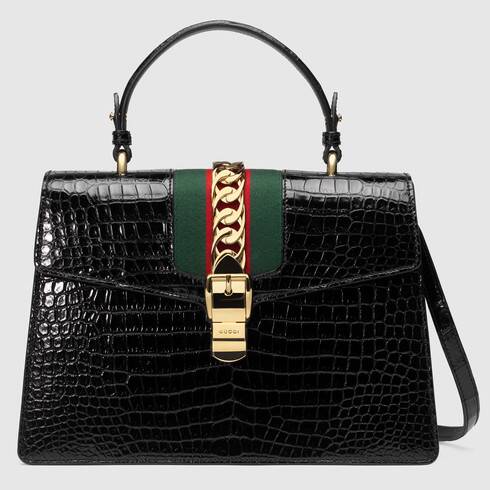 The Gucci Sylvie black crocodile top handle bag is the fifth most expensive Gucci items in the world and is currently priced at $31,000 in online stores.
#4 Gucci Sylvie Hibiscus Red Crocodile Top Handle Bag – $ 34,000
The Gucci Sylvie bag is the fourth most expensive Gucci items in the world. The Gucci Sylvie bag in a top handle shape with the nylon Web embedded under the crocodile and decorated with a gold chain and buckle. Made in soft crocodile with a distinct shine.
This bag is currently priced at $34,000 in Gucci's online store.
#3 Gucci Zumi crocodile medium top handle bag – $ 35,000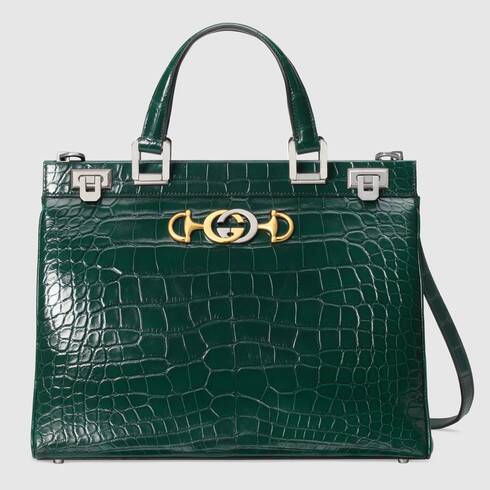 Introduced in the evocative setting of the Théâtre Le Palace in Paris, the Gucci Zumi line takes its name from actress and experimental musician Zumi Rosow, who walked the Spring Summer 2019 runway carrying the bag.
It's dark green in color and has shiny gold and silver toned hardware, protective metal feet at the bottom, three interior gussets, and a center zippered compartment.
Its current price is almost $35,000, which is the third most expensive Gucci product in the world.
#2 Gucci Jackie Crocodile Shoulder bag- $ 37,400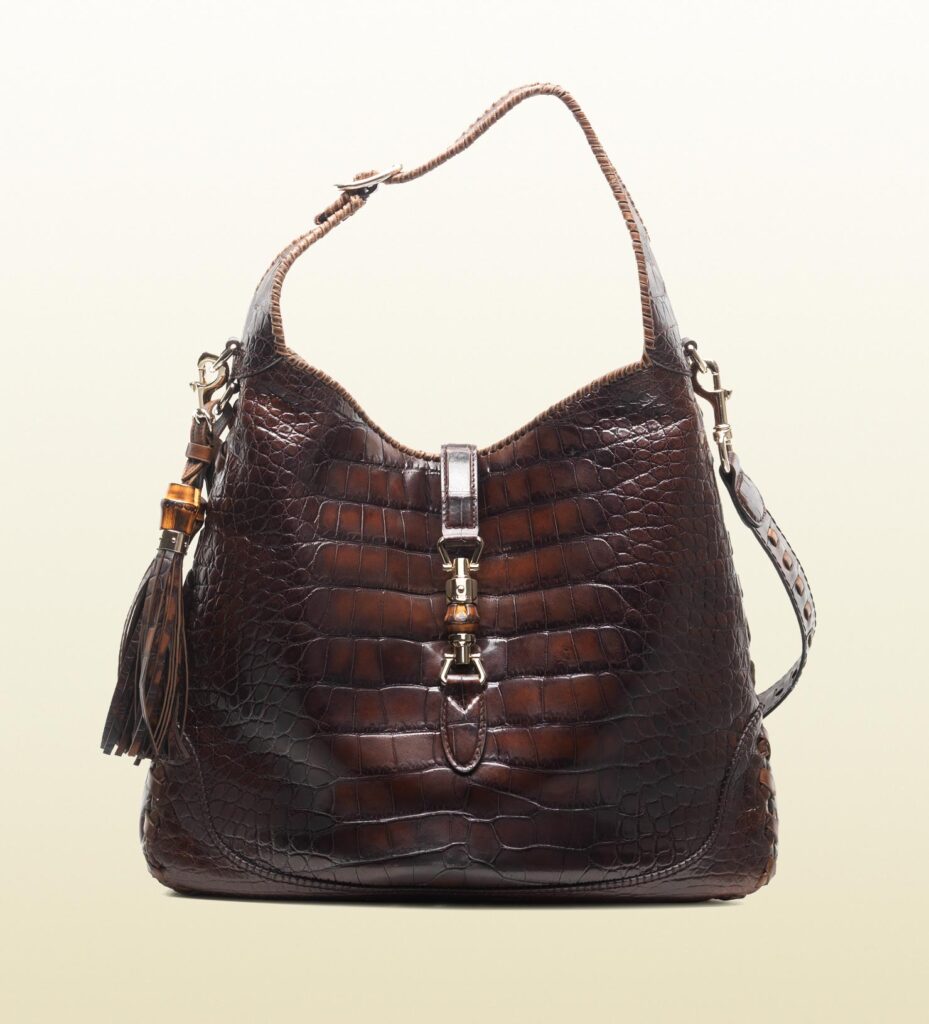 The second place on the most expensive Gucci items list is the Gucci Jackie Crocodile Shoulder bag, which is also the most expensive Gucci handbag in the world. This luxurious and stylish bag is made of brown crocodile leather and gold hardware and features interior smartphone pockets and other amenities.
#1 Gucci Stuart Hughes Belt – $ 250,000
Gucci and Goldstriker International, the global leader in customized luxury goods and gifts, jointly created this Gucci Stuart Hughes belt, which is the most expensive Gucci item in the world, with a value of up to $250,000.
The belt contains meticulously crafted 30 carats of flawless diamonds set in the pure platinum Gucci logo. The Gucci diamond belt is the perfect gift for billion-dollar friends.