All around the world, developers have been fulfilling the desires of the growing number of billionaires, many of whom desire the kind of luxury and exclusivity that is far out of reach for most people.
If money is no object, though, there are some truly magnificent condos that offer unparalleled amenities.
Here's a list of the top 15 most expensive condos in the world.
15. Dome Penthouse in the Plaza Hotel, New York
Sitting atop the Plaza Hotel on New York's Fifth Avenue, this incredible penthouse condo was sold by Tommy Hilfiger in 2019. Combining two units that Hilfiger and his wife, Dee Ocleppo bought in 2008, this iconic residence offers sumptuous luxury and elegant design. Built in 1907 and recently renovated, the Dome penthouse is located on the Plaza's 18th and 19th floors.
From the condo's gorgeous terrace – one of only two in the building – there are breathtaking and unobstructed views of Central Park and Fifth Avenue. This one-of-a-kind residence comprises 12 rooms, all featuring high-end finishings and materials. There are five bedrooms, five well-appointed bathrooms, and a fully equipped gourmet kitchen. The stunning dome room has been painted by Hilary Knight, illustrator of the Eloise books. Residents also enjoy access to luxury amenities from the Plaza. There's a 24-hour white-glove service, with separate private entrances for the valet, room service, and maid service.
14. Faena House Penthouse, Miami Beach
Perched at the top of Faena House, which features 47 ultra-luxury units, this spectacular penthouse condo offers incredible ocean views from almost 4,000 square feet of outdoor deck space.
Sold in 2020 by billionaire Kenneth Griffin, the Faena penthouse is among the most expensive residences in Miami. The outdoor living space is accessible from every room, and the deck was designed in an aerodynamic shape to reduce ocean winds. The elegant minimalist interior features a wall of windows, which help keep the residence light and airy.
Residents access the condo via private elevator, and the foyer hall opens to over 6,000 square feet of interior living space. There are five bedrooms and six bathrooms, as well as an enormous living room with super-high ceilings. The open plan design also includes a formal dining area and a gourmet kitchen.
Aside from the condo's impressive swimming pool, residents have access to all of Faena House's luxury amenities, including a private spa, fitness center, and beach club. Residents are also well-placed to enjoy all of the cultural and entertainment options on offer in the vibrant Faena District.
13. Continuum South Beach #PH2, Miami Beach
Located in the tranquil and prestigious South of Fifth neighborhood of South Beach, Continuum was completed in 2008 and is the only private gated condo development on Miami Beach. Penthouse 2 comprises four levels of unparalleled luxury living and offers sweeping panoramic views of the Atlantic Ocean and Downtown Miami. There are over 11,000 square feet of interior living space here, with 13-foot ceilings and an open design that flows seamlessly and elegantly from room to room.
Penthouse 2 features six bedrooms, seven bathrooms, and a gourmet kitchen, and also includes 1,200 square feet of guest suites and a beachfront cabana. Residents enjoy spending much of their time on the incredible 6,000 square foot rooftop deck, which also includes a swimming pool.
Continuum South Beach is an ultra-luxury development, and residents enjoy access to a host of amenities. There's a private cafe, full-service beach club, fitness center, and a full-service spa, as well as two huge lagoon-style pools. Residents are surrounded by beautifully manicured grounds, and also have access to a private stretch of pristine white sand beach.
12. Eighty Seven Park #PH1, Miami Beach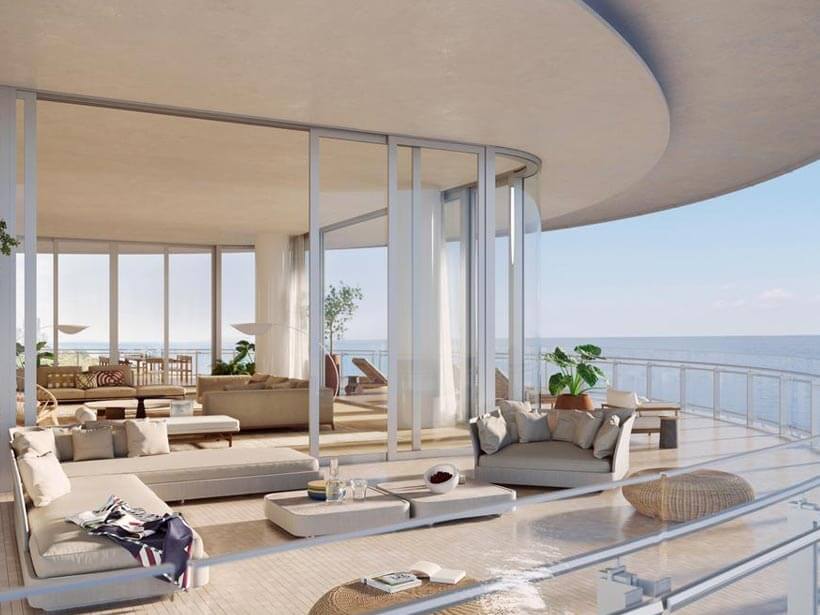 Located just a mile from the world-famous Bal Harbor Shops, residents of Eighty Seven Park are also well-placed to enjoy the endless selection of fine dining, cultural activities, and nightlife that's on offer in Miami Beach. This 18-story tower houses only 70 boutique, luxury residences, and Penthouse 1 is the most impressive of them all. Featuring breathtaking views of the Atlantic Ocean, Intracoastal Waterway, and city skyline from floor-to-ceiling windows, this incredible residence has well over 12,000 square feet of interior living space.
There are six bedrooms, eight bathrooms, and an entire service suite, as well as a private gym and a home theater. Outside, there are over 18,000 square feet of terraces, including a rooftop terrace that features two 45-foot long infinity pools, summer kitchens, and an outdoor theater. Residents enjoy access to almost endless high-end amenities. Eighty Seven Park features two oceanfront pools, a fitness center, a full-service spa, and 24-hour butler service. There's also a wine bar, juice bar, and curated art exhibits, as well as much more.
11. Wallich Residence Penthouse, Singapore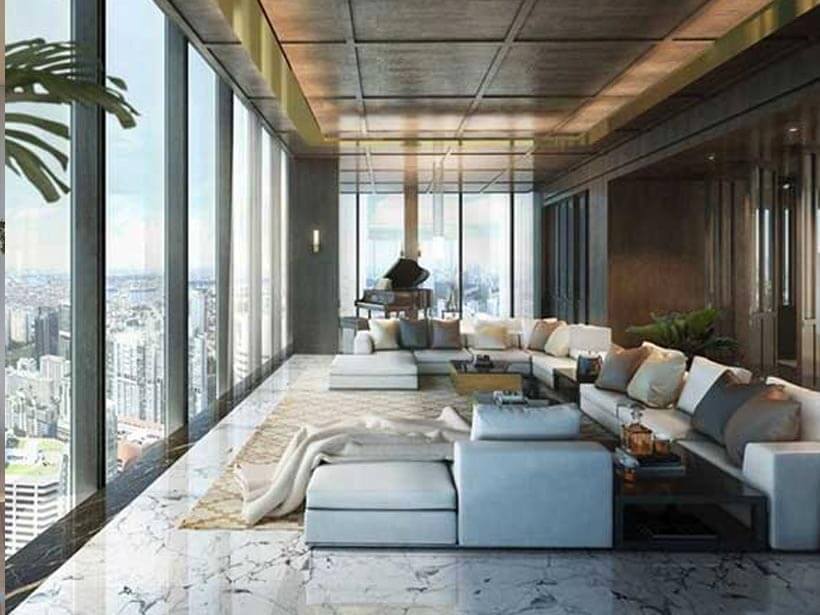 Located in one of Singapore's tallest buildings, the Wallich Residence occupies the 39th – 64th floors of the Guoco Tower. Purchased by Sir James Dyson in 2019 for $54.2 million, it has since been sold to infotech billionaire, Leo Koguan for $47 million. This spectacular penthouse occupies the top three floors of the Wallich Residence. Sitting at roughly 1,000 feet above sea level, the condo residence offers stunning views of the city skyline and the sparkling blue waters of Marina Bay.
Comprising over 21,000 square feet of living space, the penthouse features five lavishly appointed bedrooms, six bathrooms, three half-bathrooms, and a 600-bottle wine cellar. Exquisite marble flooring adds an air of opulence, and there are floor-to-ceiling windows in almost every room. The outdoor living space features a sky deck, swimming pool, Jacuzzi, and barbecue pit. Wallich Residence amenities include hotel-inspired concierge service, an infinity pool, private library, and breathtaking observation deck.
10. 56 Leonard #PH60/61, New York
Housed in the impressive Herzog and de Meuron-designed 56 Leonard tower, this incredible Tribeca penthouse was built in 2015. Featuring almost 8,000 square feet of interior living space and three terraces totaling 1,250 square feet of outdoor space, this duplex residence offers a luxury lifestyle in the center of New York. From its unrivaled vantage point at the very top of the tower, the condo offers 360-degree views of Manhattan, Brooklyn, and beyond. There are 19-ft ceilings and double-height windows to keep the interior feeling light and airy, and a private elevator opens to an amazing 60-ft long great room.
This spectacular residence houses living and dining areas with mesmerizing views, as well as a gourmet kitchen. There are five bedrooms and five bathrooms, as well as private terraces for outdoor dining and relaxing. The 56 Leonard building offers world-class amenities, including a fitness center, yoga studio, steam and sauna facilities, a 75-ft infinity pool, and an indoor/outdoor theater.
9. 15 Central Park West #PH16/17B, New York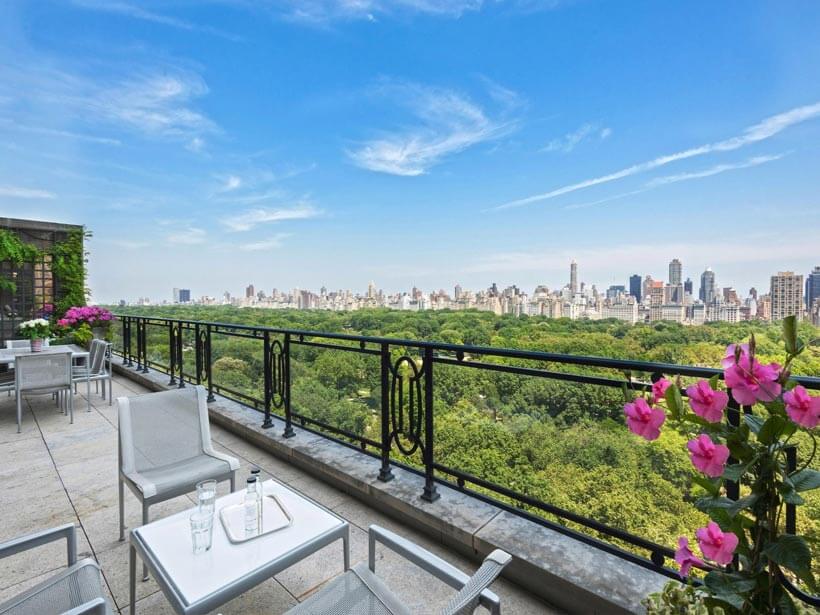 Located on Manhattan's Upper West Side, this expansive duplex penthouse is situated in the heart of one of the most desirable neighborhoods in the world. The residence comprises over 5,400 square feet of light, airy interior living space over two floors, and features spectacular views of Central Park and the city from huge, grand windows. There's an additional 400 square feet of terraces that offer residents the opportunity to enjoy private and relaxing outdoor living.
This super-luxury condo features a private landing that opens onto a fabulous gallery with a winding staircase. There are 10-foot ceilings throughout, and the open-style living room has east-facing French doors that open to a private entertaining terrace. This residence also features a gourmet kitchen, a library with built-in shelves, and an elegant dining room. There are three bedrooms, including a huge master suite with two dressing rooms. Residents have access to a range of amenities, including a full staff, fitness center, 75-foot lap pool, private restaurant, wine rooms, and much more.
8. One Madison Penthouse, New York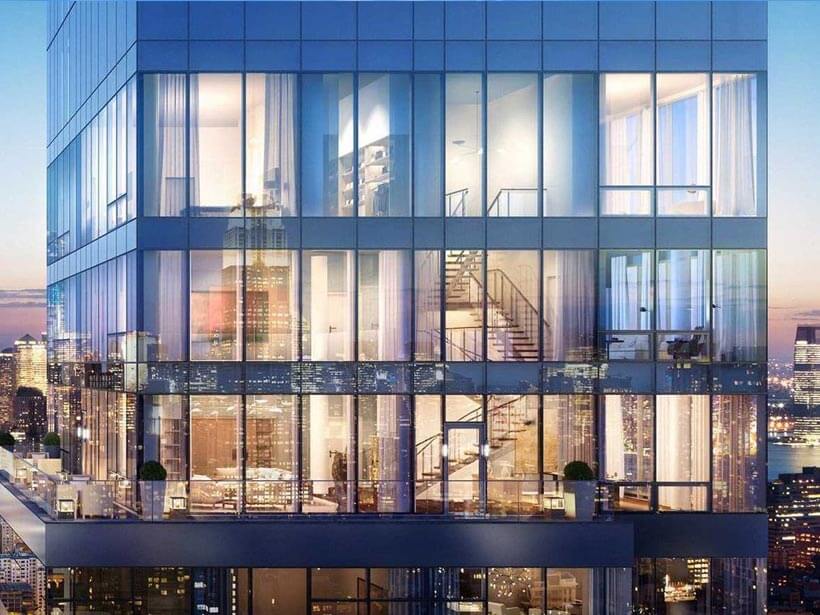 Spanning the 57th – 60th floors of the ultra-luxury One Madison skyscraper in New York City, this four-level, 10,160 square foot top floor penthouse is the building's prize jewel and was purchased in 2014 by billionaire media mogul Rupert Murdoch. This amazing penthouse residence features floor-to-ceiling windows and a fabulous wraparound terrace, providing uninterrupted 360-degree views of Manhattan and beyond.
The city views change from room to room, and with the time of day, highlighting Manhattan's relentless forward march. The closeup views of the Empire State building from the formal dining room have to be experienced to be believed, and the sunset views from the media room are simply stunning. The penthouse features eight bedrooms, eight bathrooms, a gourmet kitchen, and two private elevators. There are impeccable design features throughout, providing a sophisticated and elegant feel. Inspired architectural features include a double-height Great Room with a sweeping circular staircase and a gorgeous master suite.
7. 53 West 53rd Street #PH78, New York
Occupying the entire 78th and 79th floors of this iconic Manhattan skyscraper, Penthouse 78 at 53 West 53rd Street is a truly palatial residence, clocking in at well over 7,000 square feet of living space. Perched atop Jean Nouvel's crystalline tower, this penthouse condo houses four huge bedrooms, three full bathrooms, and one half-bathroom. The residence also features incredible 360-degree views of Central Park, the Hudson River, East River, city skyline, and beyond.
With ceilings reaching a height of over 21 feet, this penthouse features inspired interior design, with bespoke detailing and museum-quality finishes. The lower level has floor-to-ceiling windows, a formal dining room, and an impressive gourmet kitchen with a wine cooler and built-in coffee station. The upper level is reached either by the impressive staircase or elevator and features heated floors and luxurious bathrooms. Residents have access to over 30,000 square feet of amenities, as well as personalized five-star hotel-level services.
6. Opus Presidential Unit, Hong Kong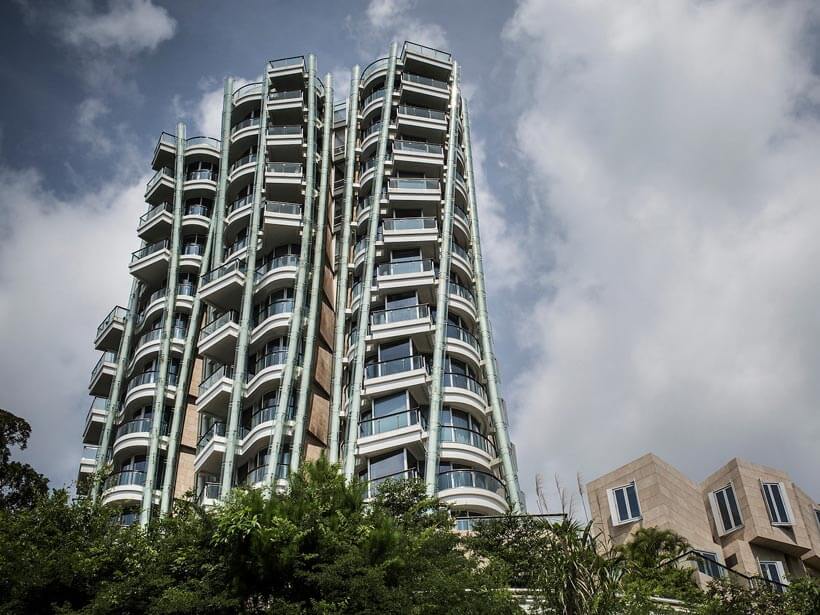 The Opus building was designed by renowned Canadian-American architect Frank Gehry, which carries a lot of prestige on its own. Named the Presidential Unit, this magnificent penthouse condo occupies the top floor of the 12-storey tower. When the unit was bought for $66 million in 2015, it instantly became the most expensive apartment ever sold in Asia.
The Opus Presidential Unit is located in the Peak area of Hong Kong, near Mount Cameron and Wan Chai Gap. Sitting high above the hustle and bustle of the city, the Peak has long been a refuge for the wealthiest residents of Hong Kong and offers tranquility as well as cooler temperatures. This penthouse comprises 5,444 square feet of living space that includes a study, powder room, and four en-suite bathrooms. There's also a fabulous rooftop deck that offers stunning views of the city as well as a relaxing Jacuzzi.
5. 432 Park Avenue #PH92, New York
It's no secret that 432 Park Avenue is now one of the most desirable addresses in all of New York. Located on Manhattan's famed Billionaire's Row, between 56th and 57th Streets, this 96-story tower – one of New York's tallest – has quickly become an icon of the city skyline since its completion in 2015. Penthouse 92 occupies the building's 92nd floor and offers a palatial and luxurious environment.
Featuring 12-foot ceilings and enormous windows, the residence creates the feeling of living in the sky. A private elevator opens to an elegant entrance gallery, leading to a gorgeous corner living room and a separate library with a wood-burning stove. The residence also features a chef's kitchen with a wine cellar and high-end appliances, as well as six bedrooms and seven full bathrooms. There are incredible views from almost every room, and residents are able to see the Hudson, East River, Brooklyn, Central Park, and even the Atlantic Ocean shimmering in the distance. As you might imagine, the building amenities are second-to-none. Residents have access to a gym, pool, library, and private restaurant, as well as a host of other luxury services.
4. One57 Penthouse, New York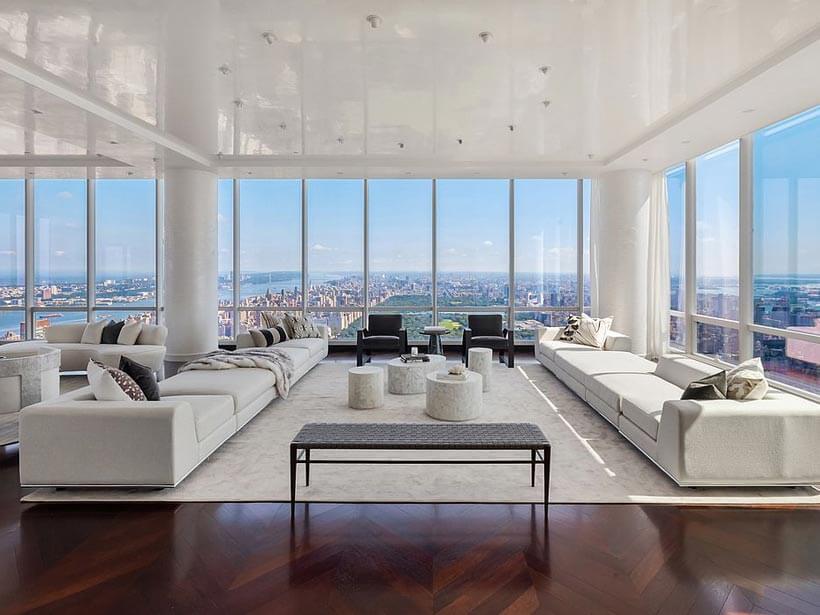 Rising 1,004 feet above the busy streets of Midtown in Manhattan, this impressive building, located on 57th Street was the tallest residential tower in New York upon its completion in 2014. Developed by Gary Barrett's Extell, One57 houses 95 luxury condos with amenities like a yoga studio and a pet grooming room. In 2015, this penthouse was the first in New York to surpass a selling price of $100 million, and instantly became the most expensive apartment of all time in the city.
Located on the 89th and 90th floors of the tower, this sumptuous residence comprises 11,000 square feet of living space, including six bedrooms, a library, an indoor movie theater, and an opulent steam room. Residents have access to the Park Hyatt Hotel's amenities, which occupies the first 39 floors. There's also a 20,000 square foot amenities floor that's just for residents and features a swimming pool, fitness center, library, and movie theater.
3. No.1 Grosvenor Square Penthouse, London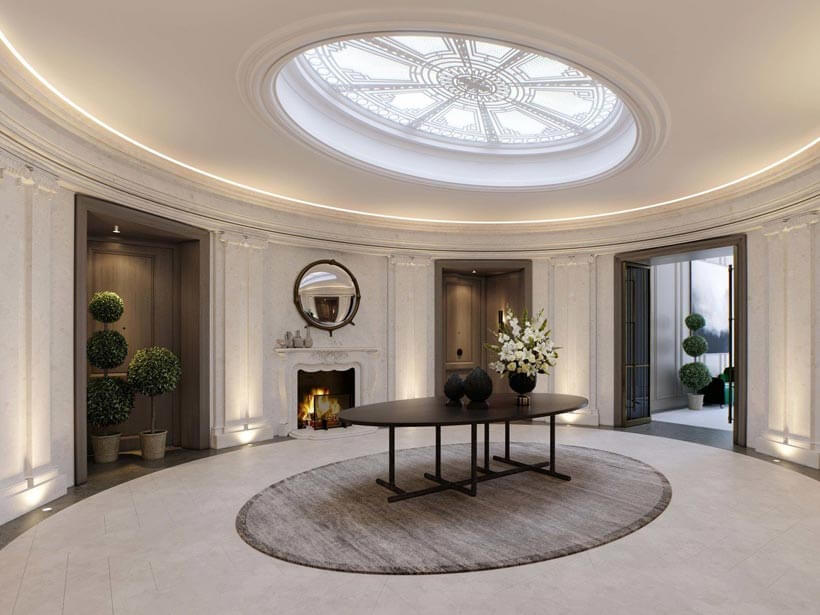 No.1 Grosvenor Square is a super-exclusive development in the upscale and sought-after Mayfair area of West London. The building was formerly the home of the U.S. Embassy, from 1938 to 1960, and retains an air of grace and importance. The building has been restored brick-by-brick, and now surpasses even its former glory. In a nod to the building's tradition and history, the developers included a grand "Oval Room" that serves as the building's main entrance.
The gorgeous penthouse apartment is full of light and air, with rosewood accents and white marble fireplaces located at either end of the formal reception and dining rooms. There are five bedrooms, an impressive chef's kitchen, a media room, and discreet staff quarters. The penthouse also features over 5,000 square feet of outdoor terrace, offering 360-degree views over central London. No.1 Grosvenor Square includes a dedicated lifestyle floor, replete with amenities. Residents enjoy access to a swimming pool, gym, private library, lounge bar with billiard table, as well as a private movie theater and performance venue.
2. One Hyde Park Penthouse, London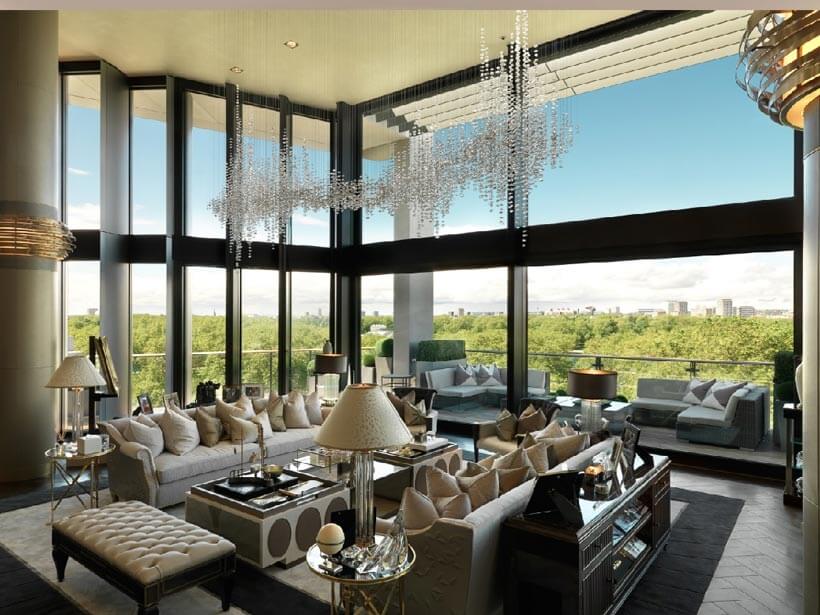 Listed by property tycoon Nick Candy, this amazing luxury residence is housed in the lavish One Hyde Park development in London's Knightsbridge neighborhood. Residents have easy access to some of London's most upscale shopping and dining, including the world-famous Harrods department store. The truly magnificent penthouse condo spans two floors and offers spectacular views across picturesque Hyde Park.
There's 18,000 square feet of interior living space, and the residence is packed full of high-end amenities. The double-height reception room features a bespoke glass fireplace as well as views across the park. Two studies house state-of-the-art audio/visual equipment, as well as separate meeting areas. There's also a champagne room and a temperature-controlled wine room with space for 750 bottles. Elsewhere, the condo boasts a games room with a cocktail bar, a gym, home theater, massage room, sauna and steam room, and two wraparound terraces.
1. Tour Odeon Sky Penthouse, Monaco
Completed in 2014, Tour Odeon is an unprecedented statement of extreme luxury in what is already a playground for the global elite. Overlooking the Principality of Monaco's glorious coastline, with Larvotto Beach below, this residential tower is the second tallest building on Europe's Mediterranean coastline. Comprising 35,500 square feet, the outrageous Sky Penthouse occupies the top five floors of the Tour Odeon, and has become one of the most expensive luxury homes in the world.
This extravagant and opulent residence has five bedrooms and three staff bedrooms, as well as bespoke features throughout. The condo features amazing 360-degree views over the azure waters of the Mediterranean, especially from the stunning outdoor rooftop's circular infinity pool, which is linked to a balcony by a waterslide.