Pianos deserve the same exposure and hype; we love giving to high-end contraptions and technologies. They are the leading choice of instrument for many in the music industry, along with those who appreciate refined and cultural pallet.
Over the years many artists have channeled their aptitudes and craftsmanship into building pieces that range from handcrafted monuments to animate classics. Only those cognizant of the true beauty, luxury, and designing of an instrument can rightfully understand the worth of a piece.
Here we have a comprised list of the top 10 the most expensive pianos in the world.
#10 Fazioli Brunei – $400,000
Italian Paolo Fazioli constructed this piano in 1981 as an articulate mixture of traditional design and mechanical engineering. He built this piece irrespective of any massive production purely to create a signature tone- a unique piece with a sole aim to combine better quality with advanced technology. The inside is crafted with jewels; we're talking pearls and precious stones with a sober finish.
#9 La Mort du Cygne – $409,000
This sleek mahogany piece speaks of wealth and fortune. Built under the guidance of a French company called Erad in 1906, this piano is a one in a million- hand craved mahogany piece, also known as The Dying Swan. The outside features a fruitwood veneer that complements the tan-colored accents. This elegant piece of earthy tones currently belongs to the Sotheby's in France.
#8 Marilyn Monroe's Baby Grand Piano – $662,500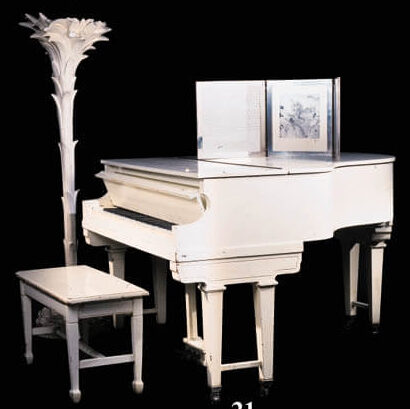 The baby brand is elegant and rare, but the name attached to it is what makes it so valuable. This beautiful white piece originally belonged to Marilyn Monroe's mother, and it got sold when she passed away. Later in life, Marilyn, grown and famous tracked it down and bought it. It was something she treasured dearly and talked passionately about in her autobiography. Baby grand currently belongs to the infamous Mariah Carey.
#7 The Alma-Tadema Steinway – $1,200,000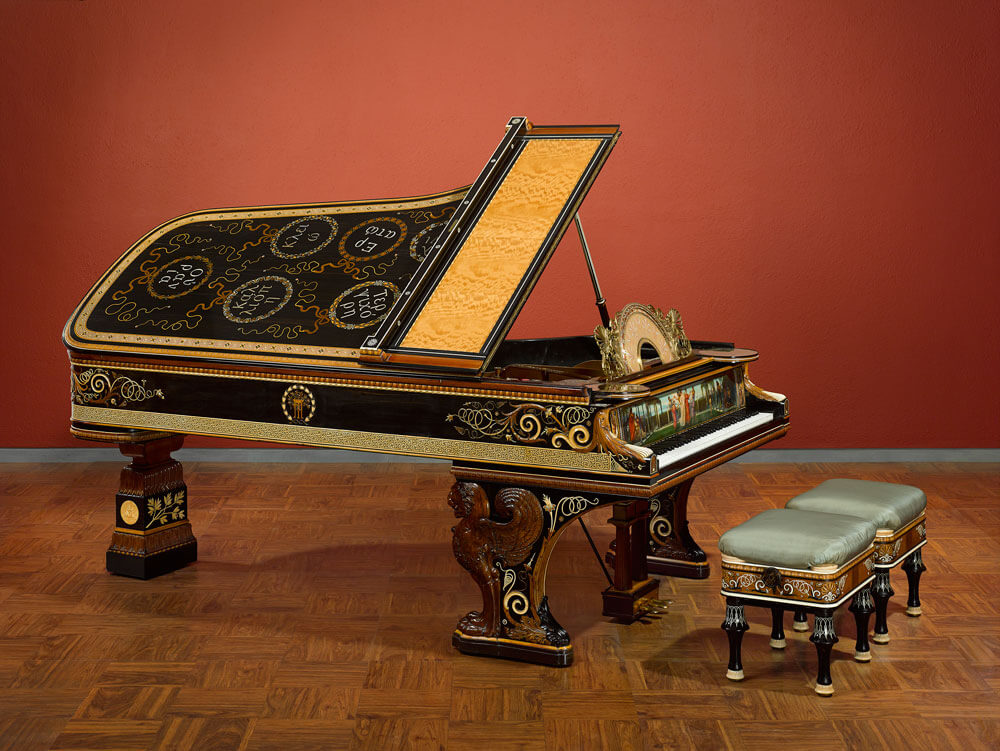 This piano is nothing short of tasteful and memorable art. It has been around since its existence in 1887 by Sir Lawrence Alma Tadema. After nearly a hundred years later the well-renowned piano company, Steinway & Sons introduced a precise replica of the Alma Tadema piano. This new piece features an arched brass lyre, mother of pearl laid inlaid trimmed pieces, and baroque hand-carved case, legs, and lid. This is one of Steinway & Sons most expensive pianos ever sold.
#6 The Kuhn Bosendorfer Grand Piano – $1,200,000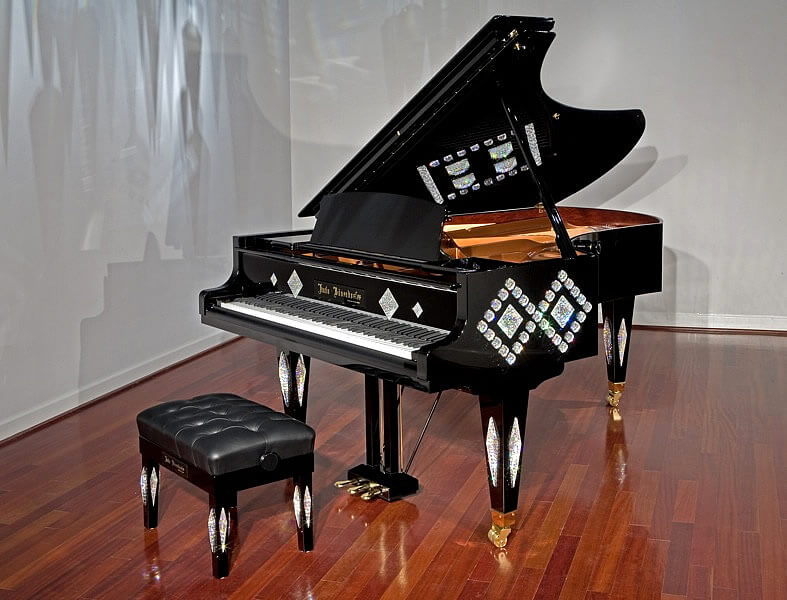 The piano was a collaboration between the infamous glass sculptor John Kuhn and piano maker Bosendorfer Klaviefabrik. They got together to create this intricate piece that contains 100,000 jewels that were individually polished by hand-cut glasses. Along with that, it features diamond-patterned gold leaves enveloped in crystals on top. The idea was to create a rarity that especially appealed to women. This 7'4'' extravagant black stone is artistic and tasteful in every way imaginable.
#5 Sound of Harmony Concert Grand – $1,630,000
The sound of Harmony Concert Grand is a custom piece that took four years to build; which shouldn't come as a shock considering they constructed the soundboard by using 40 types of different woods. It is also decorated with mesmerizing peacock designs, thereby giving it the presence and agility of a unique artifact. Steinway & Sons customized this piece for a Chinese art collector known as Guo Qingxiang. Steinway signed his name and logo on this piano in crystallized gold.
#4 Red Pops for "RED" Parlor Grand Piano – $1,925,000
The Parlor Grand Piano is an inspired and commissioned piece by the U2 band's frontman Bono. The blend of rich colors and polished design makes it one eye-catching piece. Bono wanted a lavish centerpiece that would take the stage at the Red Auction in New York. The colors and designs were hand-picked by John Ive Marc Newson to raise awareness and money for Aids extermination. This piano was the most expensive item sold that night.
#3 John Lennon's Steinway Model Z – $2,370,000
Looking at it, it doesn't look something out of the ordinary. Just a regular piano with a cinch design and plain color, yet it's worth millions of dollars. The owner of this piano was the legendary singer John Lennon, a name that brought this piece world-wide popularity and exposure. He filmed and created the vestige classic "Imagine", and left cigarette burns on it that only further enhanced its value.
#2 Crystal Piano, Heintzman – $3,220,000
The Heintzman music company constructed this exclusive and hypnotizing piece by using pure crystals. It was played once during the opening of the 2008 Beijing Olympic Games by the famous pianist Lang Lang, before being moved due to the fragility of the design. It was sold to an anonymous bidder and became the most expensive piano in the world until the following piano was successfully auctioned.
#1 The Casablanca Piano – $3,400,000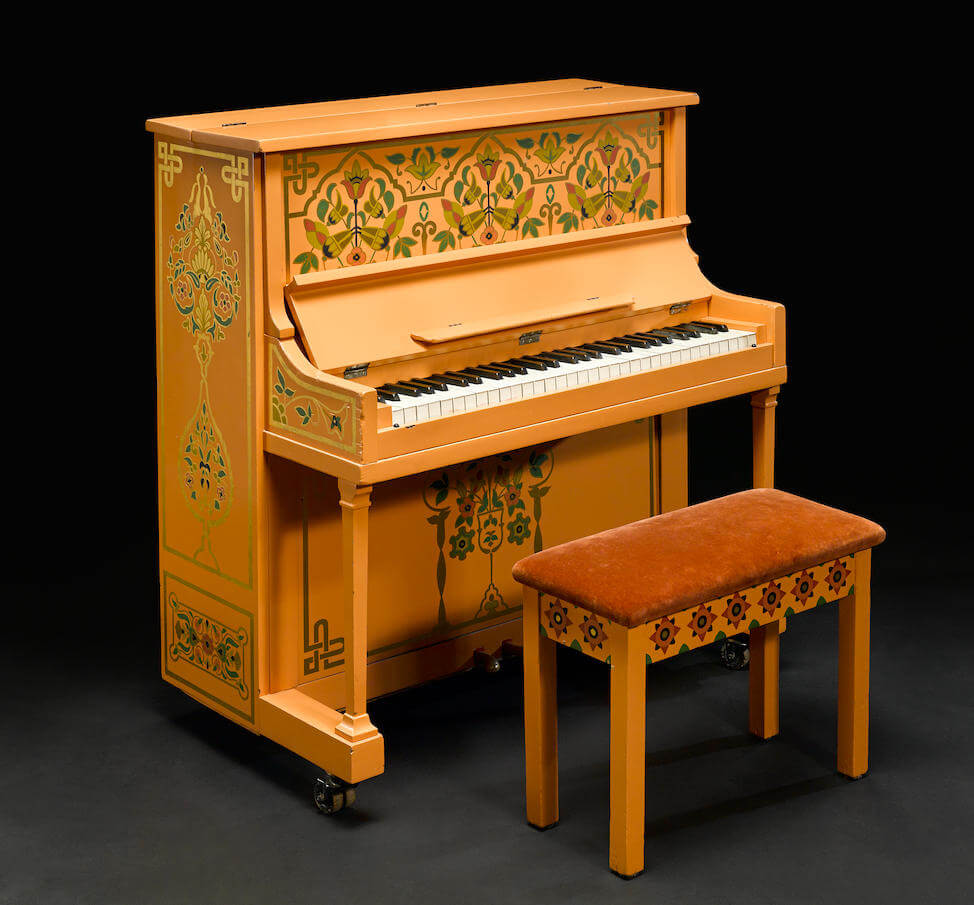 Casablanca, an all-time romantic classic that is considered to be one of the most memorable and significant films directed in more ways than one. A lot of pieces from this movie were sold for highly notorious prices, but the part that holds the most value is the featured piano from that iconic scene, "As Time Goes By," It was sold at a New York auction on Monday for $3.4 million, making it the most expensive piano in the world. Now to some, it may not seem as much, but it is something of great sentiment for the movie fans.
In this revolutionized era of diversity, it is not as easy to limit the list of most expensive pianos to just the pieces mentioned above. Yes, these are some of the divines and recognized works to be ever invented, but they are not the only ones. There are quite many hidden gems with delicate keystrokes and admirable history.