If you are passionate about guitars, then I guess you know how expensive some can be. High-quality wood, strings, pick-ups as well as craftsmanship, and build quality are some of the features used to rank guitars globally. Nevertheless, you may not find some of the most expensive guitars in your local guitar shop as they are on-demand and the most sort after in the world.
As the most expensive and most on-demand collectibles, these guitars are flawless and offer a practical experience of art that inspires music players and fans around the globe. I bet you already know of the guitar's signature prestige as a cultural portrait. However, away from the good memories created by the best guitarists of all-time like Eric Clapton or Jimmy Page, some models of guitars are an investment.
Here are the top 10 most expensive guitars in the world:
#10 1964 Newport Fender Stratocaster, Bob Dylan – $965,000

Fender Stratocaster is the first electric guitar ever played by Bob Dylan in a live show, and since then, this guitar became an essential historical item. At one time, his fans booed during a performance because Dylan's choice of guitar did not impress them. They loved the acoustic versions of his songs, and during the Newport Folk Festival in 1965, they informed him about that when he came to stage.
At the Newport Folk Festival in 1965, Dylan's choice of guitar and performance marked his shift to the use of more electronic appliances. Following the story behind Fender Stratocaster, it was sold at $965,000 at an auction in 1964.
#9 1959 Les Paul, Keith Richard – $1 million

Keith Richards 1959 Les Paul is valued at an excess of six figures without a famous name attached to it. Nonetheless, Keith Richards played this guitar in a debut performance at Rolling Stones on the Ed Sullivan show, known to have been a prominent moment in the history of Rock and Roll.
The Ed Sullivan Show made a lot of bands and artists famous and significantly added to the value of items like Keith Richards 1959 Les Paul. In 2003, the guitar was sold at an auction for $1 million.
#8 1958 Gibson Korina Explorer – $1.1 million
The value of 1958 Gibson Korina Explorer can be ascribed to having been played by the world's top three guitarists (Kirk Hammett, Rick Neilson, and Slash). What's special about this guitar is that all the three played it at some point in their music careers.
Only about ten of the 1958 Gibson Korina Explorers were ever made, and this explains why it fetched a cool $1.1 million at an auction. Its worth lies in the unique history it has, its scarcity, and unusual shape.
#7 Washburn 22 Series Hawk, Bob Marley – $1.2 million
Bob Marley's Washburn 22 Series Hawk comes at number five of the world's most expensive guitars. Bob Marley, the most celebrated Reggae artist who ever lived, had seven guitars all through his life. One of the guitars he owned was the 22-Series Hawk Washburn, which he later gave his guitar technician, Gary Clausen, as a gift.
Rumors have it that the Jamaican Government, which acknowledged the guitar as a national treasure, bought Bob Marley's guitar for between $1.2 and $2 million at an auction. Though, the whereabouts of Washburn 22 Series Hawk are unidentified up to date.
#6 Wolf, Jerry Garcia – $1.9 million
This is Jerry Garcia's second guitar listed in the top ten most expensive guitars in the world. It is also a custom Doug Irwin guitar dubbed, "Wolf." Like Custom Doug Irwin, "Tiger," this guitar is nicknamed after the custom wolf artwork commissioned on its body.
The "Wolf" was sold at the Southern Poverty Law Centre fundraiser, and it managed to fetch nearly $2 million at an auction in 2002. Presently, the worth of this guitar could be even more dependent on its condition.
#5 1968 Fender Stratocaster, Jimi Hendrix – $2 million
The 1968 Fender Stratocaster with Olympic white finish isn't so unique when matched with some guitars in this list. However, Jimi Hendrix played it at the Woodstock music festival in 1969, where "The Star-Spangled Banner" legendary performance happened.
Following its unique history, Jimi Hendrix's 1968 Fender Stratocaster was purchased by Paul Allen (Microsoft co-founder) for about $2 million in 1998. This is one of those treasures of life you would undoubtedly go for if you could.
#4 1962 Gibson J-160E Acoustic-Electric, John Lennon – $2.4 million
It was one of the pairs almost similar to acoustic guitars that George Harrison and John Lennon purchased in 1992 in London.
John Lennon's 1962 Gibson J-160E Acoustic-Electric led to the birth of Beatles songs such as "She Loves You" and "I Saw Her Standing There." After the Beatles' performance in 1963, this musical instrument disappeared, and people presumed it out of the market, but it resurfaced again several years later. Initially, it was purchased at £161 in 1962, but the acoustic guitar was sold in 2014 sold to an anonymous bidder for $2.4 million.
#3 Reach Out To Asia Fender Stratocaster – $2.7 million
The Fender Stratocaster was sold at $2.7 million in 2015 by Sotheby's, making it the most expensive guitars in the world at the time. The Fender Stratocaster resulted from Bryan Adams' "Reach Out To Asia" tour, which was aimed at supporting the Indian Ocean earthquake and tsunami victims in 2004, which killed approximately 230,000 people from 14 countries.
"Reach Out To Asia" Fender Stratocaster is unique as it features the signatures of the most famous rock stars inscribed throughout its body. Nineteen artists signed the guitar with signatures from Eric Clapton, Jeff Beck, Jimmy Page, Brian May, Mick Jagger, Brian Adams, Keith Richards, David Gilmour, Liam Gallagher, as well as Angus and Malcolm Young.
#2 Black Strat, David Gilmour – $3.9 million
This iconic "Black Strat" is the second most expensive guitar in the world ever sold at an auction. It was sold at $3.9 million to the Indianapolis Colts Owner Jim Irsay at a David Gilmour auction in 2019 in New York, making the most expensive guitar ever sold in history.
In general, Gilmour racked up $21.4 million from the auction and decided to contribute the proceeds to an environmental law charity "Client Earth," which fights in favor of environmental action. The David Gilmour's "Black Strat" is present in several famous works with Pink Floyd, comprising "The Dark Side of the Moon," "Animals and The Wall" and "Wish You Were Here" albums
#1 1959 Martin D-18E Acoustic, Kurt Cobain – $6.1 million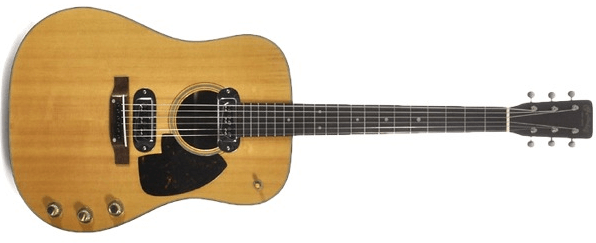 Finally, the most expensive guitar in the world title goes to Kurt Cobain's 1959 Martin D-18E Acoustic. It was purchased by the founder of RØDE Microphones Pete Freedman at an auction in Beverly Hills in 2020, who managed to secure the historical piece overnight, setting a new milestone of $6 million, and rewrote the world's most expensive guitar record set by "The Black Strat" last year.
The 1959 Martin D-18E Acoustic is an improved Martin acoustic used by Cobain for the Nirvana's MTV Unplugged show in 1993. This guitar is said to be among the last musical instruments he ever played.
Conclusion
From this list of the most expensive guitars in the world, it looks as if most collectibles, significant dates, events, previous owners, and exclusive custom designs play a vital role in determining the worth of such items.
When it comes to guitars, it's more about who's played, performed, and recorded with them. While purchasing one, consider the fact that you are buying a part of history which depending on worth, is disputably almost priceless.