We explore the top 10 most expensive earbuds on the market available today.
If you are looking for a convenient alternative to regular headphones, earbuds are an excellent alternative. Also known as in-ear monitors (IEMs) or earphones, as you have to insert them in your ears, they transmit sound right into your ear canal, creating a more intimate sound experience. Many audio professionals and music enthusiasts prefer earbuds over traditional headphones.
We have gone through the best earbud options available and compiled a list of the 10 outstanding and most expensive earbuds. While they do cost more, you will love each of these products as they represent top-of-the-line technology, innovation, and quality. The one common feature among all the featured earbuds is the relentless pursuit of excellence and perfection in reproducing sound.
#10 EMPIRE EARS ODIN CUSTOM
Retail Price: $3,599
While all Empire Ears IEMs stand prominent as icons of extraordinary quality, ODIN is their legendary flagship IEM. Named after the god Odin, these earbuds represent the pinnacle of beauty and power. With a design that aims to make each moment that you spend with ODIN euphoric, you will fall in love with it. ODIN does not simply reproduce sound, instead, it delivers precise emotions through its outstanding frequency response range.
Because Odin is a rather large IEM, share your scans or photos of your impressions to find if your ears are compatible. Empire will then construct your own customized ODIN IEM with an approximate build time of 10-12 weeks.
#9 64 AUDIO TIA FOURTÉ
Retail Price: $3,599
Tia Fourté represents absolute perfection in world-class in-ear technology. With outstandingly accurate sound, these earbuds provide the widest soundstage in all IEMs. if you are looking for lifelike sound, detailed and three-dimensional audio, the Tia Fourté provides perfection itself.
This fantastic IEA features a comprehensive three-part Tia system placed within its ergonomic shell. Forged from aluminum, the Tia Fourté features elegant copper patina faceplates.
#8 NOBLE PRESTIGE CUSTOM KATANA
Retail Price: $3,999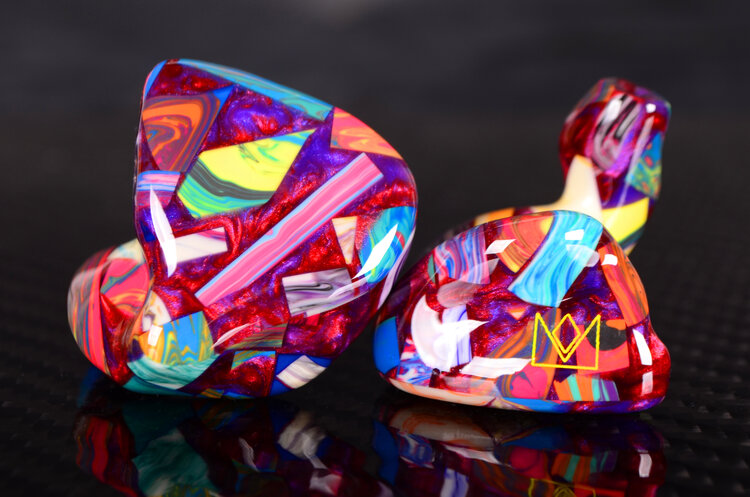 Like other Prestige earbuds, the Noble Prestige Custom Katana is crafted completely from solid art mediums and aesthetic materials, like exotic wood. The Prestige Custom IEM is crafted by using molds formed by using your ear impressions.
The earpiece is fitted with 9 custom-built drive units within a new smaller and lighter aluminum chassis. Each earbud is a unique handcrafted art piece and absolutely stunning.
Inspired by the Kakana Samurai sword, the Custom Katana reflects the sword's perfect combination of artistic beauty, balance, and sharp cutting edge. The Katan IEMs deliver tremendous versatility and speed, generating outstanding imaging and remarkable airiness. Their earbuds are perfect for use with portable music players and smartphones.
#7 MMR Thummim
Retail Price: $4,499
The Metal Magic Research Thummim earbuds offer an exquisite design complemented by unique technology. The ultimate sonic reproduction and inconceivable spherical soundscape produced by the MMR Thummim is possible mainly because of its ground-up development. You will be astounded by the depth, presentation, impact, gravitas, and impact of their sound.
MMR is known for crafting exotic-shaped IEM with a robust build. They have completely outdone themselves with the Thummim with its aesthetic and unconventional design that challenges the boundaries of IEM architecture.
The Thummim uses 4 electrostatic drivers conjoined with one transformer which provides flawless musical masterpieces. With the addition of proprietary internal LITZ by Eletech, the Thummim has attained final perfection.
#6 OBRAVO EAMT-1c
Retail Price: $4,099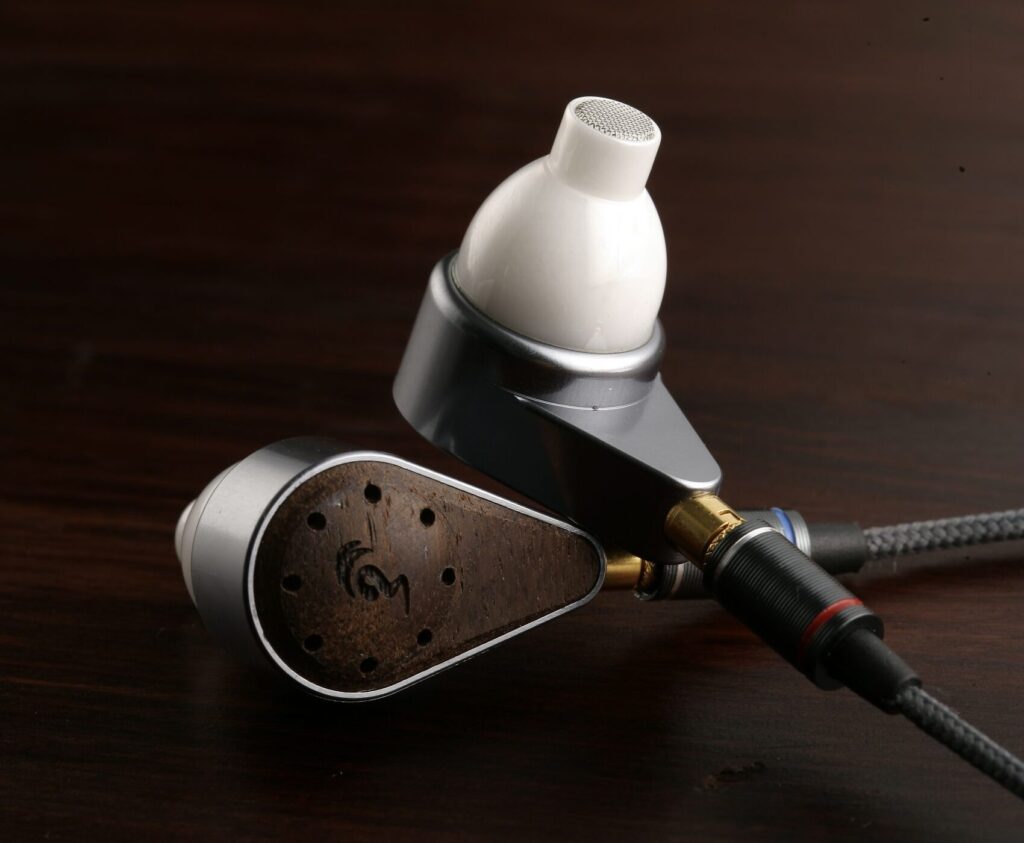 The EAMT1C is quite legendary due to its unprecedented levels of speed, sound quality, and detail. If you are an instrument player, this is the perfect IEM for you as it will play your sounds exactly as they should sound.
Like previous oBravo earphones, the EAMT1C is simply outstanding. It features an AMT tweeter with a 13mm dynamic driver. With 16Ω impedance and 105dB sensitivity, you will enjoy an outstanding sonic experience.
This is the C version because the enclosure is built with precision ceramic, which does not add to the sound due to its inert properties. Other versions are also available where the enclosure is made of wood or aluminum.
#5 VISION EARS ERLKöNIG Limited Black Edition
Retail Price: $4,200
The last and final 200 units of ERLKöNIG are here! The Limited Black Edition features a beautiful silver shell with a completely original and identical circuit and driver setup. You will also get exclusive accessories with an upgraded shiny black rhodium finishing.
The new and improved black cable makes the sound fresher, particularly in the higher frequencies. You will get to enjoy the perfect sound signature.
#4 UM Mason Fabled Sound Special Edition
Retail Price: $5,999
UM Mason Fabled Sound Special Edition earbuds come with some amazing features. Their sound is configured with dBC-s dual sides bone conduction system and 12 balanced armature drivers. The custom-made drivers provide significant advantages in distortion control and soundstage size.
These are only some of the many features of these IEMs that guarantee extraordinarily realistic and natural sound. In addition to a very clear bass, you will actually feel and hear the singer's voice. These IEMs provide excellent comfort and are surely top of the line.
#3 Oriolus Traillii JP
Retail Price: $6,599
The Traillii's reputation has preceded them and they are surely the IEMs with the greatest hype ever. The Oriolus Traillii is a new generation of electrostatic in-ear earphones. The flagship IEMs come with 12 drivers in each channel, a 3-way design, and a customized cable.
Regardless of material costs, the Traillii JP is designed to provide magnificent, invincible sound performance and quality. In addition to the uncompromised standards of Oriolus, the Traillii JPs reflect a balanced and ultimate performance in the bass, midrange, and treble, natural and smooth voice, a wide sound field, high density, a very high resolution, and rich detail like that provided by over-ear headphones.
#2 OBRAVO RA 21 C-CU
Retail Price: $9,999
The oBravo RA 21 C-Cu is priced at $100, which makes it second in the list of the most expensive earbuds in the world. It provides super successful earphones by combining a dynamic driver and patented AMT driver technology. You get textured bass, a perfectly balanced presentation, and exceedingly accurate detail in higher frequencies. This sound quality is unmatched in IEM devices.
oBravo's philosophy has created earphones that meet your need to have high-quality full-sized hi-fi speakers playing visceral sound and music in your ears. The cable paired with the earphones provides better synergy than any other cable. There have been several internal and external changes in the Ra 21 since the initial launch of Ra 2017 model, making them more luxurious than the original version.
You can only get these earbuds through a pre-order from the local oBravo Partner.
#1 QDC Blue Dragon
Retail Price: $12,199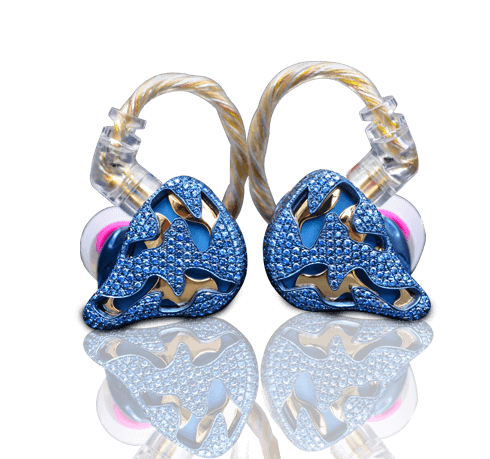 The QDC's Blue Dragon is a very clear winner among this amazing collection of the most expensive earbuds in the world. QDC's Blue Dragon features 10 transducers in each earpiece providing stellar sound and music quality. Due to their ergonomic shape, the Blue Dragon will fit inside your ears so comfortably that you can use them for hours and hours very conveniently.
These earbuds are crafted with some very exotic materials. The Blue Dragon's innovative titanium and 18K gold alloy shell is inlaid with approximately 800 blue sapphires. And it gets better… the braid Dragon skin comprises copper, silver, palladium, and gold, formed with the use of composite strand weaving technology. This creates a unique dragon scale look on the earphones.
The specially crafted earphone cable features a multitude of various conductors for ultimate sound quality. Because the Blue Dragon is based on the Anole VX, the detail levels are unprecedented with an astonishing soundstage. You are surely in for an impressive sound and music experience. You can also fine-tune it to meet your music preferences by using a huge number of tuning options.
.